Back to the US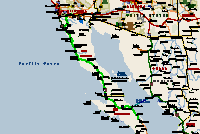 Playa Requeson
to Jacumba California
3/31-4/3/05
Guerrero Negro to Cataviña: I didn't get inspected at the Baja California Sur border; they just waved me through. And it wasn't because they were busy; there weren't any other vehicles in sight.

I just came across a truck driver that appears to be a newbie. Although how he got down here is a mystery. He straddled the yellow line except to let people pass or avoid oncoming traffic. Even then, he didn't stray far from the yellow, as if he didn't know exactly where his right wheels were.

Well, I'll take that back, he wasn't a newbie after all. Apparently, he was running empty and fighting the wind. It's picked up enough for me to feel it now, and I'm driving like him! The wind is out of the north (as usual) and about 30-35 kts.

WOW, now the wind has picked up to about 50-55 and is pushing me all over the road. I've had to slow down to about 30-40 mph to keep control of this rig. I passed another Class A that had pulled off the road with an awning problem but I couldn't stop to help, no place for me to get off the road too.

At km 69 there is another inspection station. This time one of the solders gave me a quick walk-through. I feel for them, with this wind, every time a big rig comes through, they create an instant dust storm when they pull off the pavement into the inspection area.

I still don't understand why they put rumble bumps after the hazard area. They do it all the time and it doesn't make any sense at all to me.

With this wind, coming across that "top of the world" area that I described on the way down, it was white-knuckle time! What is usually a very scenic stretch was scary to say the least with nothing to slow down this wind. It must have topped 60 kts across there! Once I get to Cataviña, I'm stopping until this wind dies down!

The prominent colors on this trip north are yellow, gold, and green. Not as lush as coming down but still pretty.

After passing the L.A. Bay intersection, I got into some heavy traffic. About a dozen cars, all heading north, came up behind me and passed. I think they all came from L.A. Bay. There were a mix of U.S and Mexico license plates so I don't know if it was a convoy or not.

Well, now I know it was a convoy; I just passed all of them. They were pulled off the road and trying to re-secure the load on the top of one of the station wagons. I wish them luck in this wind!

Well, I finally made it to Rancho Santa Inez at Cataviña, although I wasn't sure I was going to make it with that wind. It's got to be approaching hurricane force on some of those gusts! I'm not going any farther until it lets up. It's even too windy to go hike the boulder fields, as I couldn't hold a camera still enough to take any pictures.

Well, the next day the winds had subsided somewhat, but not completely, so I got my boulder field pictures and hit the road, hoping for continued reduction in the winds.

Next and last stop in Mexico, Ensenada and then on to Jacumba, California, USA.
Back on the road, still fighting the wind. As I cross the high desert, I keep crossing over low foothills. Each time I think, "Well maybe the pacific valley system will be on the other side, or at least the wind will lessen", but no luck, just more desert and more wind. The thing I don't understand is, no matter which way the road turns, the wind is always hitting me on the side.

Another thing, the road builders seemed to like the high ground, as I'm traveling along this road I can look down at a nice valley paralleling the road with trees and farms that are more than likely out of the wind. But do you think the road is down there? Nooo, it's up here on the ridge!

If you happen to see a big semi coming at you with flashing yellow lights on top of the cab, look out! That's their "Wide Load" sign!

Well, I probably had a lot more comments but I seem to have gotten my pocket tape recorder out of sync. It was "on" while laying on the engine hump and "off" when I was talking into it. Bummer. I can tell you that I finally got off the high desert and into the Pacific valleys where the wind finally gave up and made it into Ensenada, where I set up camp for 2 days at the Mona Lisa.

From here, it is a quick 2 hour drive back through the Tecate border station and on to DeAnza Springs Nudist Resort in Jacumba, California.

Construction of a Costco just south of downtown Ensenada, on Hwy 1, is well underway.

Tecate is developing a smog problem.

On Sunday, at noon, it took 45 minutes to get through the lineup and clear customs. The Ag inspector asked about meat and eggs but I had given all that away in Ensenada. He found my Anaheim peppers and confiscated them. I had forgotten I had them.

And so ends my Baja adventure, 33 days and 2201 miles. But I'll be back next year (if I don't go to South America) and spend more time on the Baja. I might even invest in a little piece of the Baja for myself!