Ensenada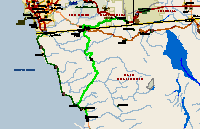 DeAnza Springs California
to Ensenada Mexico
2/24/05

Ensenada Album
Because I'm now traveling in Baja Mexico, I'm reinstating the road report. I'm also going to post the leg reports as soon as possible, and post the photo albums when I get the time. This way I hope to not get so far behind like I've become with the East Coast and Gulf Coast 04 reports. (I WILL get those finished, someday). Information on most of the RV parks, and directions to them, are covered in the "Traveler's Guide to Camping in Mexico's Baja" by Mike and Terri Church. For any that are not, I'll provide a more detailed description and driving directions. The Church's can also be found on their website at www.rollinghomes.com. I'm using the second edition of their book but I've heard that they are coming out with a newer version. It may be available already.

This starting leg takes me from DeAnza Springs Nudist Resort in Jacumba California to the Mona Lisa RV park south of Ensenada, Mexico. I'll be traveling CA-94 to the Tecate Mexico border crossing and then Mex-3 from Tecate to Mex-1 just north of Ensenada. From there it's just about 14 km to the Mona Lisa RV Park south of the city.

ROAD REPORT: CA-94 is a narrow, winding road but it has good pavement and is well signed. The border crossing was uneventful; I was waved through without stopping. The pavement through Tecate is a mess and I've been led to believe that that is the norm for most Baja towns. Unlike Mex-1 (toll) from TJ to Ensenada, Mex-3 is one of the standard Mexican 19 ft wide highways. This give you 9 1/2 ft for each lane and no shoulders!! Americans and some Canadians consider this narrow but I've encountered roads like this before; in, of all places, Canada. The Redcoat trail through Saskatchewan is the same way. The only difference is that there was much less traffic in SK. Anyway, to get back to the road report, Mex-3 is in pretty good shape overall, not too many potholes and speed limits of 60 k/h most of the way. I went through two Army inspection stations but they were only checking northbound traffic. One of the things you have to get used to is that people will pass you even though the road is clearly marked with a solid line (which is supposed to mean 'no passing') and roadside signs indicating no passing. In fact the big rigs will signal you to pass them with a left turn signal when it's safe to pass. I got into the custom quickly and got a lot of friendly waves from cars passing me. Another thing to watch out for is Alto (stop) signs; they will sneak up on you. I'm not sure why I have so much trouble seeing them, maybe it's because they are mounted low to the ground, about 4 foot. Nevertheless, I'm adjusting, and even though I had to stand on the brakes a couple of times, I didn't run any that I know of. But, at that height, it's easy to have one hidden behind a parked vehicle.

After Mex-3 joins Mex-1 the road becomes multi-lane divided, and is more like what we are used to in the US. However, the road surface in Ensenada itself is uniformly bad. The far right lane is the worse and you can't distinguish between the road and the shoulder. That's another thing; the local buses seem to delight in using the shoulder to pass you on the right and then stop to pick up passengers. I got a little lost in town but did find a gas station so I filled the tank (NP5.98/liter or $2.04/gal) and got directions. The station attendant didn't have much English but when I showed him the Mona Lisa RV park on the map in the Church's travel guide he immediately showed me how to get back on Mex-1 and indicated that it was "far" down the road. It turns out that there is a big billboard with "MONALISA RV" and an arrow on it at the turn off of Mex-1 ( Estero Beach road or Calle General Agustin Sangines Drive). This road is 2 lane and is lined with all kinds of shops and restaurants. There is a big dip about halfway down that had water running through it. I thought I might scrape but didn't, surprisingly. When you reach a sort of Y in the road you take the right branch (there is another big "Monalisa" sign and arrow so you can't miss it). The entrance road to Mona Lisa is dirt and heavily potholed (probably made worse by the recent rains) but once you get through the entrance it turns into cobblestone and is quite nice.

RV PARK REPORT: The Mona Lisa RV Park ($15/Night, no website) is a nice park with concrete pads, Palapa shaded tables, and nice landscaping. The name comes from all the murals depicting various events in the Mexican history painted on just about every exterior wall (see photos), but no Mona Lisa. Acturally, most of the murals are bias relief's, that is, they are wood cutouts, glued on the walls in layers and then painted.

I was given a site that had a brick double Bar-B-Q, a small concrete wall around it with lots of potted plants, and a view of the ocean. This is the only RV site that has a view, the rest of the sites are behind a row of cottages. The employees tell me that my site is used (and fought over) for long term guests during the season. The site has full hook-ups (the power is only 15 amps but that's all I need) but the water isn't recommended for drinking. This is true for almost all of Mexico, even the locals don't drink the tap water. There is a purified water truck that comes into the park every day but I'll work off my internal tank and refill it through my filters later.

With the exception of a couple of tent campers, I seem to be the only traveler in the park. There is one other RV out by the main gate but it looks abandoned. There is a rock rip-rap embankment about 15 ft high separating the park from the beach but there is a path and staircase down to the beach alongside the park so you don't have to crawl down the rocks. Tom, the owner, is a retired US Marine and almost all of the help speak English; in fact two of them, a father and son team, are from Minnesota (they are one of the tent campers). The bar – restaurant is currently closed for the season. The park is fenced in with a high wall and a main gate that is closed (but not locked) at night. There are pedestrian gates on the ocean side that lead to the beaches on both sides. Dan is trying to convince the school kids to stop using the park as a shortcut but I think he is fighting a losing battle since the tide comes all the way up to the rock riprap.

WEATHER: The weather for the 2 weeks prior to my departing DeAnza can only be described as wet. San Diego and LA broke records for total rainfall, and had all kinds of flooding and mud slides. Today (Thursday) is the first decent day in quite a while. It's in the mid 60's and partly cloudy. The rest of the time here the weather was sunny, breezy and cool, but no rain.

After getting set up, I spent the rest of the day talking to the hired help and the Minnesota people, getting directions to the markets, banks, etc.

Friday I drove back into Ensenada and wandered around the waterfront and downtown areas. I had fish tacos for a late lunch and then headed back to the RV park. The restaurants were still serving breakfast at 11 AM and didn't switch over to lunch until about 1230. They are definitely on a slower pace down here. I stopped at a Gigante store to do some grocery shopping on my way back to the RV park. These are comparable to the Super Walmarts or Fred Myers. When I was backing out of my spot in the parking lot, a guy with a whistle stopped oncoming traffic and motioned me to back up. As I was pulling away, I thought that was a cool service for the store to provide and then noticed that the guy was yelling something, then I was stopped by another guy with a whistle, while someone else backed out. That's when I figured out what was going on, the other driver tipped the whistle guy before she pulled away! I'm glad I don't speak Spanish, because I think I was being cussed out by that first whistle guy. I'll have to find out what the usual tip is.

This morning (Sat) an old women came through the park selling breakfast burritos to the park workers. I wish I'd known about her as I had already started cooking breakfast. There is a lot of work going on in the park, apparently the owner kind of let things go for awhile due to deaths in the family in the US and his wife getting injured in a traffic accident (also in the US) and having to have a hip replaced. Now he's playing catch-up to get ready for sprng break and the summer season. Then I drove out to the La Bufadora (the blowhole), out at Punta Banda. The last quarter mile of the road is pedestrian only and is lined with makeshift shops of all kinds on both sides. I purchased a new money clip and a lightweight poncho (I picked up a heavy one at Quartzsite). I also splurged and bought an ice cream cone for 8 peso's. The blowhole was somewhat impressive and I took a bunch of photos. I could see that it would be really spectacular in a heavy surf. Unfortunately when I got back to my RV I discovered that there wasn't a memory card in the camera! Oh well, I'll get some next time.
(UPDATE: I went back on Monday and took some more pictures. The place was like a ghost town and La Bufadora wasn't spouting quite as forceful as on Sunday but I got my pictures.)

On the way back I spotted a local flea market on a dirt road and stopped for a look-around. Most of the stuff was used tools and clothing but there were some people selling new electronics, DVD's, Tapes, and power tools. I got the feeling that most of this stuff was either counterfeit or hot. After that I found an internet café (they are all over the place here, I've seen 4 of them so far) and updated this website.

Since I crossed the US border my cell phone has been indicating either "Roaming" or "Extended Network" but when I try to make a call it either goes directly to "call ended" or I get a recording in spanish (which I don't understand). It's probably telling me that I'm dialing wrong. The little light on my phone is flashing red/white, which is supposed to indicate that I have voice mail waiting. One of these days I'll remember to call on a land line and find out who's trying to contact me. My voice message tells people that I'm in Baja and it may take me a week or more to get back to them so I've got plenty of time to return calls.

I spent an afternoon flying my stunt kite at the beach and attracted a lot of kids. I wasn't able to put the 50 ft tail on it because the velcro had come off so I had to settle for the 10 ft streamers on the wingtips. Some other people showed up with kites but none of them were stunt kites, just single-string types. By that time I had put mine away and was leaving; but when I looked back some of them were yanking on the string trying to get their kites to do tricks like mine. Apparently they were too far away to see that mine has two control strings. I think I'm going to have a lot of fun with my stunt kite on this trip.