To Loreto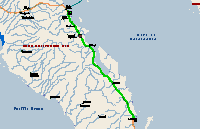 Santa Rosalia
to Loreto
3/10/05
On the road to Loreto, passing through Mulegé and past all the Bahia Concepción campgrounds. I have to pick up the pace if I want to make it all the way to Cabo San Lucas before I have to start back. Because of all the negative reports I've gotten about the Cabo area, mostly concerning the traffic and the total tourist mentality, I now plan on making a quick visit to Cabo in my toad and then head back north. Hopefully this will give me enough time to spend a week kicking back on one of the Conception beaches (and maybe even get in some fishing) before I have to get serious about heading for Phoenix. Of course, there's always next year. I definitely will be coming back next winter and spend a lot more time here.

Then there's the mail problem; I need to get my mail and, since Loreto has an international airport, Loreto is the logical place to be able to receive a FedEx package.

Now here's a sight, as I was leaving Santa Rosalia, a Baja buggy pulling a homemade, wood-sided trailer. I know that that buggy can't be 'street legal', but I guess no one cares here.

One of the weird things about driving in Mexico, all the livestock you see on the roadside. I mean grazing on the non-existent shoulders! I've seen cattle, burros, horses, and goats: Sometimes just one lonely beast out in the desert miles from nowhere. I hear it's worse at night because they like to sleep on the blacktop. The last encounter was a herd of goats. They were all grazing peacefully as I passed but the last one decided he wanted to be on the other side of the road just as I was passing him. That is now one smashed goat, both the front and rear tires RV tires got him.

ROAD REPORT: After leaving Santa Rosalia the road turns slightly inland, cutting across a point (Punta Chivato) before rejoining the coast briefly at Mulegé. Mulege is an oasis, with date palms and mangroves all over the place. It sits near the mouth of Rio Santa Rosalia and is a tropical paradise after the desert. I can't drive the RV into town because the roads aren't suitable for big rigs so I'll stay on Mex 1, which skirts the west end of town.

12 miles south, the road rejoins the coast again as it follows the coastline of Bahia Concepción. This is the ultimate destination for most RVers. This huge shallow bay offers many beaches where you can park your rig just a few feet away from the water and spend the winter months soaking up the sunshine. The highway parallels these beaches for about 20 miles. Don't mistake that to mean that this stretch is flat, it's nothing of the kind! The whole coastline here is high cliffs interspersed with coves that have sandy beaches, so as you drive from one beautiful beach to the next it's all up and down with some really spectacular curves and drops!

Full hookups are seldom available, and boondocking is the norm at most of these beaches. Nevertheless, many have toilets, showers, water, and restaurants. In my opinion, if the beach has a single water spigot and a sewage dump station it's considered a candidate for some long term camping. That's what self-contained RV's are for! I'll be stopping here on my way back, the only question is for how long

After leaving Bahia Concepción, the road climbs over a low saddle and then runs along a wide inland valley. Off in the distance I could see green fields where water was obviously available and farms were taking advantage of it. However, the highway never got close to any of these fields of green so I never found out what they were growing. It was pretty much desert most of the way; and dry desert, not the green and flowering desert of before. Some of the hill passes can be very treacherous as evidenced by all the wreckage at the bottom of some of the slopes and the shattered guard rails (although guardrails aren't that common in Mexico). I saw evidence of at least one RV that had gone over the side, and it looked fairly recent! I had two fuel tankers (double tanks each) tailgating me for a while and I pulled off the first chance I got and let them pass!

At km 24, outside of Loreto, I found another military checkpoint for northbound traffic. I haven't figured out what all the checkpoints are for, except maybe it's just make-work for the troops. I'm sure the US Army would do the same thing if there wasn't laws against it. They would say its "good training"!

LORETO: Loreto is called by some as the oldest continuously occupied town on the Baja, having been founded on 1697. However, it was virtually abandoned from the time of a major hurricane on 1829 until resettlement in the 1850's. Today its part of a FONATUR development scheme like those in Cancun and Cabo. FONATUR is the Mexican Governmental agency that has planned and constructed these and other places. Although most of the infrastructure has gone in at Nopoló, about 5 miles south. There they have constructed an 18 hole golf course, tennis center, the Loreto Inn, and a convention center. Loreto itself has survived unscathed so far. Fishing, boating, kayaking, diving, etc. are popular here. Unfortunately, I'm here a month early or 2 months late, according to the fishing charter companies. They don't even have any vessels in operation right now.

RV PARK REPORT: Riviera Del Mar RV Park and Camping; no known website; e-mail lanyvall@yahoo.com.mx; $14/night. This is the newest campground in Loreto and one of the nicest. It has about 25 back-in gravel spaces with painted rocks, flowers and young trees as dividers, and 5 tent camping sites. The RV sites aren't wide enough for slides and the big awning both, but unless the park is crowded, the owner lets you spread into the sites next to you. It has new, clean restrooms and showers that are individual rooms with sink, shower and toilet. There is a central palapa with a bar-b-q, tables and chairs, hammocks, and a sink unit. There is also a washer and dryer available. They have just added internet access but only through their own equipment. However there is an internet café in the center of town, next to Café Ole, where you can either hook up or use WiFi (although the counter clerk didn't know what the access key was when I was there).

The park is in a residential neighborhood about 2 blocks from the beach and 5 blocks from the center of town. From the street, it looks like a residence with an overly large driveway. When you pull into the driveway the area opens up to extend all the way to the next street and across the back of a row of homes. The whole area is fenced in and the owners live in the residence (which also doubles as an office and restaurant (see below) so security is excellent. English is spoken if the daughter is there. I believe the owners have all the property from here to the end of the block and may be considering expanding the RV Park. Currently I don't think it would hold anything longer than a 35 footer, and maneuvering room can be a problem for 5ers.

Just this year they have added a small (5 tables) restaurant to their residence that serves breakfast and lunch only ( 8 AM to 2 PM). They are just getting the hang of running it and say they may expand it to include dinner next year. The food is excellent (try their Chili Rellanos stuffed with tuna, but bring an appetite, the servings are huge) and the prices are cheap. While you're there, check out the flowers in the front yard, someone in the family definitely has a green thumb.

The two drawbacks to this park is that the neighborhood roosters are on Mexican time and crow up to about 10 PM, and the local dogs start barking at dusk and also don't shut up until about the same time. If one of the dogs seems really close and has a sharp, high pitched bark, it's the back neighbors little dog. Just go up to the fence and glare at him and he'll shut up and head for the house. Little coward only barks when he thinks he can get away with it and he's also the one that sets all the other dogs off.

There is a high school at the end of the block and while I was there, they had their spring break. That was a wild party, with an impromptu parade down the street, games, bands, and dancing, all very civilized (but loud) with absolutely no problems. It all broke up at 11 PM so all the neighbors could get some sleep.

The next day (Saturday) a cruise ship pulled into the harbor! Boy was I surprised. I was logging some serious beach time when I spotted it. Apparently this is something new. There isn't any piers or wharfs for it to tie up to so they ferried the passengers in and out of the boat harbor with the ships launches. The town was packed with tourists and the local cops turned out in force, directing traffic at every intersection so no tourists would get run down. There is one main street that is still all cobble and key stones and is lined with overhanging trees and tourist type shops that is supposed to be off limits to vehicular traffic; but everyone uses it as a shortcut during the week. This day there were cops at every intersection blocking the locals from driving through.

Well, was I wrong! Today (Sunday) I got an e-mail from my mail service stating that FedEx doesn't deliver to Loreto, and I had just paid the park for 2 more days. Bummer! I sent an e-mail back directing them to send the mail package to San Jose del Cabo, to be held for pick-up. According to the FedEx website, it'll take 8 days to get here and by that time, I should be in San Jose. Tomorrow morning I will call the RV park where I'll be staying and see if I can have the package sent directly to them. If so, I'll modify my last e-mail. I spent the afternoon eating a long brunch at the Café Olé, Huevo Ranchero's and Limonado (lemonade with lime). I'm going to gain a lot of weight at this rate!

Something no-one warned me about; Mexican no-see-ums bite!!! This evening there isn't even a whisper of a breeze and they are out in force. I got bit at least 7 or 8 times before I realized what was going on. The insidious thing about them is that they've bitten you and left before you realize that you've been had. It takes a couple of minutes before you feel the bite. Most nights there is a breeze that keeps them grounded. Tomorrow I'll find out if the anti-mosquito candles and OFF work against them. (They do)

Next stop - La Paz, the government seat for BCS (that's Baja California Sur for you newbes)