To Los Cabos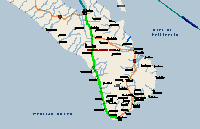 La Paz
to Los Cabos
3/18/05
Todos Santos Album
San Jose Del Cabo
Cabo San Lucas
This should be a pretty straightforward and easy 3-hour drive; there aren't any major mountains in the way that I know of. I'll be crossing from the gulf side of the Baja back over to the Pacific side. This will be my first view of the Pacific since Guerrero Negro. There is a large loop, starting a little ways outside of La Paz that allows you to circumnavigate the tip of the peninsula, allowing you to go all the way around the very formidable mountains looming on the horizon. I'll be taking the Pacific Coast side first and come back up on the Gulf side. I know that I said that I wouldn't be taking the RV into Cabo, but a couple I met in Loreto convinced me that traffic wasn't all that bad. So here I go!

ROAD REPORT: The stretch from La Paz to Todos Santos was pretty uneventful, I had been warned about watching for the "cargo" or truck route around Todos Santos and not to go into the main part of town in my RV so I didn't make that mistake. If the people next to me in Loreto hadn't warned me I'd probably driven right by the sign and still be wedged somewhere in the town square!

The stretch between Todos Santos and Cabo reminded me of some of the coastal areas of Southern California; cliffs dropping down to sandy beaches and the road winding up and down, in and out. The area is very green with cacti sticking up through the undergrowth. The biggest problem through this area is that I kept getting stuck behind semi's that couldn't go faster than 20 mph, and that's downhill! On the uphill grinds, they were lucky to do 10 mph. Of course there are very few places where you can pass these guys, and when I did get around one, I'd find another one a few miles down the road.

RV PARK REPORT: Vagabundos Del Mar www.vagabundosrv.com; reserve@vagabundosrv.com; $18/night; is owned by the Vagabundos Del Mar travel club (which I'm a member of) and, with the exceptions of being on the main highway and not being on a beach, is an excellent park. There are a lot of semi-permanent residents here with palapas to park their RV's under and even a couple of cottages. It also has all the services and amenities that you would want, including a bar/restaurant, pool, clean restrooms & showers, Laundromat, Full Hook-ups, internet access, and a pay phone. I could buy a double-wide concrete pad with a palapa roof and all the hook-ups for $5,900 US and pay another $3,600 a year for the utilities and be all set. They had 3 of them for sale. They also had one that already had a 34 ft 5 wheel already set up on it for about $9,000 plus the annual utilities. If it weren't so "touristy" down here, I'd consider it for a winter base. I don't think I'd want to spend the summer here, although they say it doesn't get up to triple digits that often. I did see one palapa being fumigated; I'm not sure what kind of bugs you get in palm fronds.

The first night I was there (a Friday) they were having an evening get together for a HAM'S convention poolside with a live band. I guess Mexicans like Karaoke also because a lot of them got up and sang. Some actually had good voices; then again, some couldn't carry a tune in a bucket! Around 11 PM there were only a couple of them left and they got stuck on one soulful ballad that no-one really remembered the words to so they kept singing (sorely off key) the same stanza over and over and over again. Finally the owner (who's also a HAM and is putting on the shindig) told everyone to go to bed.

ROAD REPORT: Cabo is an area that uses the Lateral Road system quite extensively. For example to get from the RV park to Costco, which is only a half mile east, you have to go east on the lateral outside of the park about 2 miles to a traffic light, make a left, cross both lanes of the main highway, turn onto the westbound lateral, and go the 1 1/2 mile back to Costco. I visited COSTCO and then drove into downtown Cabo because I couldn't find any place to cross over to the eastbound lateral. The westbound lateral just merges into the main highway with no opportunity to make the crossover.

I didn't buy anything at Costco, even down here; the quantities you have to buy are humongous! I'll do my shopping at the local super Mercado. I actually went because I heard that they carried paperbacks in English. Wrong!

Since I ended up in downtown Cabo anyway, I looked around, had lunch at Cabo Wabo and left. What a madhouse, there was a cruise ship in and the streets were packed! I didn't stay longer because I was wearing sandals that rub me wrong if I walk too far. I'll go back later in the week with some good hiking boots on.

ROAD REPORT: I doubled back in my toad to visit Todos Santos and got lost trying to get out of Cabo. I seem to do that a lot in towns that have more than one paved road. So I did my usual thing (after driving around for about 20 minutes), I stopped, got out my map and approached a local. It only took a few minutes to discover that I was headed in the right direction and only a couple of blocks away from Hwy 19. The problem is that Mex 19 makes a right turn at the traffic light just past the Lazaro Cárdenas intersection (marked for the Colonia Lomas del Sol turn), but isn't marked when heading north, so I just bombed right through it. I would have done it again the second time but the light was red and while sitting there I noticed the sign for the cross traffic indicating that the road on my right was Hwy 19, not the one straight ahead! So I made an illegal right-hand turn from the left lane (after checking for traffic and the policia) and I was on my merry way again.

TODOS SANTOS : Todos Santos is the Baja's art colony. It is an old mission and sugar cane town but now is better known for the many Norteamericanos who have arrived in search a simple small-town ambiance. There are galleries crafts stores, and restaurants, as well as a bookstore called El Tecolote. You are just south of the Tropic of Cancer in Todos Santos, which means you are truly in the Tropics!

At Todos Santos, after prowling the Sunday flea market and the rest of the town, I had lunch at the Hotel California. No self-respecting Parrot-head could walk past this place without stopping. I'd like to report that the hotel is open for business and doing nicely, thank you. Lunch was served in an inner courtyard that was very pretty and relaxing, and the shrimp and beef quesadilla's (2 each) were outstanding. I was a little disappointed that they weren't playing Jimmy Buffet on the sound system but the two old men playing guitars weren't all that bad. Although they, like all the other musicians down here, simply mangled Via con Dios (sp?). I'm beginning to believe that that song was strictly U.S. Another unique thing about the place is the signs for the men's and women's bano's (restrooms) (see Todos Santos photo album). I must have seen 5 people make the wrong decision while I was sitting there. Which one would you choose?

On my way out of Todos Santos, I noticed a sports bar on the side of the road called "Shut Up Frank". I was almost tempted to stop and find out where THAT name came from.

Arriving back in the Cabo area, I stopped at the local Soriana; boy was I surprised! I thought that the Soriana's were department stores, but at least this one is much more! It's also a full range supermarket. Unfortunately, they also didn't stock English language paperbacks. Oh well, I bought some other stuff I needed and headed back to the RV park.

LOS CABOS: The term "Los Cabos" (the Cape) actually covers two major towns, Cabo San Lucas and San Jose del Cabo, which is located about 20 miles to the east of Cabo San Lucas. The stretch in-between is called the Tourist Coast or the Cabo Corridor. Most of the campgrounds are in this corridor. This is also the area of the highest concentration of upscale beach hotels in-between surfing beaches. Most of these surfing beaches, or at least the empty properties fronting them, are probably privately owned, but fences have "fallen down" and tire tracks running from Hwy 1 to the beach exist. I could see a bunch of cars and people on these beaches. About the only way to keep the people out appears to be posting a guard, of which I saw a few.

San Jose del Cabo; this is actually the oldest of the two towns and, in my opinion, is more relaxed and comfortable. A Jesuit mission was founded here in 1730 but the estuary to the east of town had been used as a watering stop far before that. Today San Jose del Cabo is the center of business and government for the Cape area. The town is also in the midst of a building boom, there are large construction project everywhere. San Jose del Cabo doesn't have a seaport but there are pangas available for charter pulled up on the beach in front of La Playa, a small village east of town.

On the Cabo Corridor, I stopped and took some pictures of the surfers at one place that had a viewpoint pullout. The beach hotel there was called, appropriately enough, Cabo Surf. There is a Greek hotel along here also, the Mykonis. It even looks Greek.

The day (Monday) I visited San Jose del Cabo was apparently the day after their big Juarez Sunday celebration; there was a small carnival in town that was breaking down their equipment and the town square and stage was being cleaned up after what looked like a good party. While walking around I came across a bookstore on Majares that had English paperbacks (I never did find the bookstore in Todos Santos) and spent about 300 pesos on books.

CABO SAN LUCAS: Cabos San Lucas is the major resort town in the Los Cabos area. It is also the newest. It is filled with fly-in tourist, cruise ship tourist, sailing tourists, hitchhiking tourist, and drive-in tourists. The town is centered around the harbor and, because of all the tourists, has a large Mexican population spread out around the town. The tourist come here to fish, dive, swim, shop, lay on the beach, and especially this time of year (spring break), party.

I walked half of the Cabo San Lucas boardwalk along the inner harbor one day and the other half the next. The whole inner harbor is one big marina with boats and slips on one side and shops and restaurants on the other. The east end of it connects to Playa Medano, the main Cabo beach. You can also get to the beach from just about any place in the harbor by water taxi. The center of the harbor boardwalk is where the big shopping malls and downtown hotels are. This is also the center of town.

The day I walked the eastern half, I spent much of my time on the beach, at a palapa style restaurant. I had lunch, sat, and watched the action both on the shore and in the water. There were kayaks, jet skis, dive boats, water taxis, banana sleds, pleasure boats, parasailers, and of course, a very large cruise ship at anchor. It was a very hectic sight. I can't understand why there weren't any collisions. Although that must be a very real possibility because I passed an ambulance stationed at the closest road when I walked in.

An observation; the Mexican people don't use bathing suits, at least not the American type. They dress in knee length shorts and T-shirts to go swimming; and I never saw a Mexican male with his shirt off. I can imagine what they think of the nearly nude Americano.

Now it's time to turn around and head north. I'll be taking the eastern route back to La Paz, completing the "Southern Loop", and then retrace my southern route back up to Bahia Concepción, where I hope to spend at least a week on one of the beaches.