To Santa Rosalia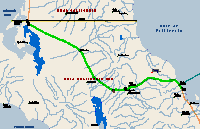 Guerrero Negro to
Santa Rosalia
3/7/05
San Ignacio Album
Santa Rosalia Album
On the road to Santa Rosalia, on the Gulf of California ( Sea of Cortez) side of Baja Sur. This will be my first visit to the Gulf side this trip. I'll be on the gulf for a while.

On the way I'll pass through San Ignacio, an oasis town built around lagoons formed by damming a river that emerges from the earth nearby. It is also the home of the Mission of San Ignacio, a mission built of lava rock with walls four feet thick. There also are rock paintings in the surrounding area. Other than a quick stop for gas, I'll just be passing through. Although I plan on coming back in my toad to see the mission and take a guided tour to the rock art (that's the only way you're allowed to visit them).

Santa Rosalia is an old mining town founded in the 1880's by a French company to extract the copper ore found here. The mining operation continued until the 1950's. Now it's clam to fame is the fishing and the ferry port serving Guaymas on Mexico's west coast. This town also has a connection to the Pacific Northwest; it's constructed of lumber imported from there. The building designs are French colonial. A.G. Eiffel, the designer of the famous Eiffel Tower, designed Santa Rosalía's church. It was then prefabricated in France and shipped around Cape Horn by boat. The town also has a French bakery. I'll be checking out both the mission and the bakery while I'm here.

The reason I decided to stop here and backtrack to San Ignacio is simply because the campground here has a coin-operated laundry.

ROAD REPORT: After leaving Guerrero Negro I traveled through a lot of desolate desert. I'm not sure why this area isn't green and in bloom, it rained almost every night while I was there and, judging by the mud holes in the dirt roads, that isn't unusual. All of a sudden, I entered an area that was thick with cacti, flowers, and other green growth. It was as if someone drew a line and said that there will be cacti on this side and none on the other; strange! Another thing I noticed, this area is flat and you can see down the road for miles, then all of a sudden, there is a sharp turn in the road. Then you'll go for miles until it does it again! I've got no idea why. I'm used to seeing this in farm country but didn't expect it out here in the middle of nowhere.

It's country like this that makes me glad that I had the cruise control fixed and new tires and shocks put on in Phoenix.

Approaching Vizcaíno, sections of the desert floor was covered in color, yellow, orange, or purple, sometimes a mix. Unbelievable!

Approaching San Ignacio I got into hill country, probably a prelude to the mountains I have to go over to get to the Gulf. About 4 km outside of San Ignacio, I hit my first military checkpoint. They came into the RV and looked around but never opened up any cabinets or even checked the toad. They just looked around and asked if I was a fisherman when they spotted all the poles in the overhead. They also asked where I was going, and that was it. Also about the same time, the road went to hell. This seems to happen every time I get near a town. It doesn't seem to matter how small the town or village is, the road goes to hell for about 4 km on either side of it. It's as if the locals are responsible for the road in that section and the federals take care of the rest.

The gas station attendants in San Ignacio are really on the ball. They have long handled squeegees and, after getting the pump going, they both got busy on my windshield. One of them told me that they had to order the long handles from the U.S. My windshield hasn't been that clean since I entered Mexico, most stations don't even try because of the height, so I tipped them 100 peso's; that's 5 bucks each, I figured it was worth it.

Back on the road, I passed a work crew clearing the brush away from the roadside. No power tools for these guys, machetes only. The predominate color changed in this hill country to purple, with touches of yellow and orange. I have been noticing that some of these villages have a different way to slow the traffic down. Rather than mini-topes and topes, they just paint white lines across the road leading up to a big orange line. You really can't tell if there is a real tope there or not. At least it slowed me down. I've been climbing ever since I left San Ignacio and finally reached the crest. I though I would see the Gulf but boy was I wrong. The vista before me is very impressive but it isn't water! It's a large valley with more mountains on the other side (see photo at top). The road down is pretty impressive (read steep) also. Once I crossed this valley and climbed a few hills, I reached the crest once more and there it was! The Gulf of California! A beautiful sight; all that blue against the barren desert hills. And I mean barren, as soon as I crested, the vegetation disappeared (see album)! On the way down (and this down is steeper than the last!) I came across a propane plant in the middle of nowhere, so I stopped and filled up. I should be good for the rest of the trip now since I won't be needing it for heat for a while.

RV PARK REPORT: Las Palmas RV Park; No known website, e-mail jramiro-contreras@hotmail.com; A nice park with full hook-ups (15 amp receptacles but 40 amp breakers. Did I mention that they aren't really big on electrical codes around here?). It also has the aforementioned Laundromat and a restaurant. But the restaurant isn't open right now. There were 3 other rigs here, two from Europe (Germans I think) when I arrived but no manager. The Germans said that he would show up and he did, about 2 hours later. I paid him, got some tokens for the laundry (they don't take money), and he disappeared again. More campers showed up so I assume that he will appear again in the morning to collect from them. The next morning a pickup truck came through selling water but I'm still using my filters and tanks. No problem so far.

All this bouncing around on the rough roads has caused my drawers to collapse so I'll have to spend some time rebuilding them. What a pain. I had to completely re-install the supports and gliders. I finished about noon on the second day (the first full day) so I went into town and did some sightseeing. Quite an impressive town, I visited Eiffel's Mission, the French Bakery, and walked the whole town. The largest building in the town (next to the square) is a human resources building. At least half of the ground floor is a gymnasium and 2 basketball courts! Basketball seems to be big down here; I've also seen lots of outdoor courts at the local schools. I love the town squares, it's great to just sit in the square and watch the people. I've had a few locals join me on my bench to practice their English and I've taken the opportunity to practice my Spanish. I'm still lousy at it!!

Well, I doubled back to San Ignacio, looked around and visited the Mission; very pretty and impressive when you consider that it is built out of lava rock. I was unable to arrange a tour to the cave paintings, the government office where you have to register was closed, as well as the tour office next door. I was able to get some photos of the Mission, oasis, lagoons and the surrounding desert though. I also ran across an old Baja hand from California at the lagoon and he clued me in on some of the local stuff as far as Baja fishing.

WEATHER REPORT: the temperature was comfortable for shorts & tee's when I arrived and also the following day but it was very windy. The locals call it a gravity wind because it's coming down from the north. The last full day was perfect; no wind, just a cooling breeze and 75 F. The evenings were warm and the sky clear with no moon, so the stars were really bright.
Tomorrow I pull out and head on south. I'll probably skip stopping at Mulage or Bahia de Conception, about an hour down the road; at least not for an overnight. I'll check them out for possible long stops on the way back, but probably continue on to Lorado (about 3 hours away). I need to get my mail sent to me and Lorado is supposed to have an airport with scheduled flights, so they may have a FedEx office. If not, I may be able to use Direct Express, they are also supposed to have an office there.

WAGONS HO!!