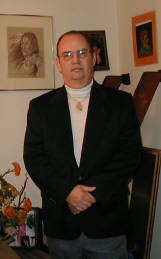 MY BIO
I was born in July, 1942. I'm the oldest of 4 children, with 2 brothers and a sister and am part Indian (Klickatat). Because my father was in the Army and then became an ironworker (reinforcing steel), I spent my school years moving around the country a lot. My father was an alcoholic and I had to chase him out of the house with a shotgun when I was about 15. After that it was up to my mother and me to raise and support the rest of the kids.

When I graduated from high school (Watsonville Union High, Watsonville , CA in 1960) I joined the Navy and became, in turn, a submarine sailor, Interior Communications Technician, and Reactor Operator. After 8 years I had been promoted to First Class (E6) and was on the list for Chief (E7). However, because almost all of my postings had been on the East Coast or overseas, and my detailer wouldn't transfer me to the Pacific Coast (and other reasons) I left the Navy before that promotion happened.

I then went to work for Scientific Data Systems, a manufacturer of scientific computers (mainframes), as a computer test technician. After a couple of years I had worked my way up to the head of Field Engineering. When we merged with Xerox and became Xerox Data System, the new upper management started downsizing our field engineering workforce (among others). This resulted in my having to run the department while on the road, troubleshooting systems which, in turn, caused an ulcer problem, according to my doctor. When my bosses refused to take some of the workload off my shoulders by allowing me to hire an assistant, instead offering me another raise, I quit and hit the road with a backpack and my thumb, finally landing in Monterey CA .

In Monterey , I worked as Maintenance Engineer for Travelodge and as a bartender for various bars. This cumulated in my becoming a partner in a Bar/Restaurant a block off of Cannery Row. When I realized that I was becoming an alcoholic I sold my interest in the bar and joined the U.S. Coast Guard with the same pay grade (E6) as I had when I left the Navy 7 ½ years before (the Navy wanted me to start over at E2).

In the CG, while serving on High Endurance Cutters and Polar Ice Breakers (3 Operation Deepfreeze and 1 North Pole trip), I worked my way up to Chief Warrant Officer – Engineering (CWO-4 Eng). For the Brit's and Canadians, that's equivalent to Sergeant Major. By combining my 8 years in the Navy with my Coast Guard time, I was able to retire in 1990 after 15 years in the CG with 23 years total active duty.

I then went into the Marine Electrical/Electronics Systems Design field, working for various Naval Architect/Marine Engineer firms (including my own, for awhile). In this capacity I worked on or for; the US Navy, US Coast Guard, NOAA, Royal Saudi Navy, Washington State Ferries, Alaskan Marine Highway System, Mobile Oil, and numerous other marine related clients. I retired from this in 2003, bought my RV, put my house up for sale and hit the road again, this time in much more comfort. In March of 2004 I sold my house and officially became a full-time RV 'er (even though I'd been full-timing it since September, 2003).

I've visited 84 different foreign countries (some don't even exist anymore) and been shot at in 3 of them. I've been on all 7 continents and most of the States. I've been around the world twice, been to both poles, and sailed the 7 seas. In earlier times this would qualify me to wear a gold ring in my left earlobe but I don't. At one time it meant something, but not anymore.

During all this I've had 2 vertebras fused in my neck, 3 massive heart attacks that stopped my heart (thankfully, those happened while in the hospital for a mild heart attack), had 3 stents put in my heart, and developed Type II Diabetes. The diabetes has caused loss of feeling in both heels. Lately I've noticed what appears to be arthritis in various joints, mostly in my legs. However, due to a healthy diet, exercise, and medication, I'm probably in physical better shape than before the heart attacks and definitely in better shape than most men my age.

I'm 62 and single (but looking for a co-pilot/navigator). My hobbies are; digital photography, hiking, fishing (fresh & salt), bike riding, reading, cooking, window shopping, and computers. Oh yeah, spending time in nudist resorts should be high on that list. I exercise with weights regularly and carry a set of dumbbells for when I can't get to a gym. My taste in music runs the gauntlet from bluegrass and blues to opera and rock. I don't care for hip-hop, rap, or heavy metal. I also don't like songs that consist of one phrase, yelled over and over again, ad nauseam! Songs are poems set to music and should tell a story. A good song can bring me to tears. One of my favorite artist is Sarah Brightman. I don't smoke or drink. I've been thinking of taking up golf but haven't had the time. I read sci-fi, mysteries, biographies, westerns, and the back of cereal boxes. I'm currently reading Tom Clancy's "Into The Storm, A study in Command" and "HMTL for the World Wide Web" by Elizabeth Castro . I've recently taken up crafting and am making Spirit Shields and Dream catchers (or at least trying to), I even do a little beading.

This is just a quick once-over of my life. If you want the whole thing, you'll have to buy the book (if I ever get around to writing it).