East Coast 04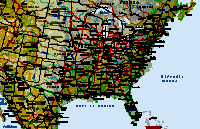 BAR HARBOR, MAINE
Albums
Bar Harbor

For those of you that followed my trip across Canada, I'm changing my format a little for the next trip (East/Gulf Coast). The "Road Report" will be dropped unless I run across something worth mentioning. Once I hit Mexico I'll revive it.

This "East Coast '04" trip starts with me arriving from Yarmouth, NS on the high speed passenger/car ferry "The Cat". See my previous "Cross Canada" trip for details of the crossing and the ferry. It will include the trip down to Key West and over to my winter grounds at Shangri-La Ranch in Phoenix, AZ. I may include the segments from Shangri-La to the Mexican border, but I haven't decided yet.

RV PARK REPORT: After clearing customs, I headed for Hadley's Point Campground, about 8 miles up the road and checked in for 3 nights. Hadley's Point is a very nice park with all the usual amenities, including a pool. It is a mix of open, grassy areas and wooded areas. I recommend it.

The first full day I spent my time wandering around Bar Harbor and sitting at a table at an internet café, updating my website while people watching. I also restocked my fridge, now that I don't have to worry about border crossing for awhile.

The next day I spent touring Acadia National Park and taking lots of pictures. I traveled the park loop road, saw the Thunder Hole, the otter cliffs, and went to the top of Cadillac Mountain. Lots of great scenery! Unfortunately I'm about a month too early to see the leaves change.

The following day was off to New Bedford, Mass. Actually I'm going to stop a little short of New Bedford. I also want to go out to Cape Cod so I'm stopping at Outdoor World RV park in Rochester, MA.

ROLLING SOUTH!