Bar Harbor to Cape Cod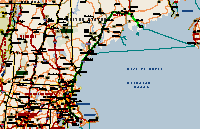 CAPE COD/NEW BEDFORD, MA
Albums
Cape Cod

On I-95, in route to New Bedford; Well I've solved the question "Where's Waldo?" Waldo is a county in Maine!

I planned to go around Boston but missed my turn and ended up on I-93, going right through town on the "Big Dig". As far as I can see, all they accomplished is hiding the traffic jams underground.

RV PARK REPORT: Outdoor World, Gateway to Cape Cod. This is a chain of 16 RV parks from Maine to Florida that are very nice. The Gateway park is heavily wooded so I was really surprised when my dish picked up the satellite.

WEATHER REPORT: I'm only stopping for 3 nights as I want to get to warmer weather, it's starting to get a little cool. Highs in the high 50's and low 60's, mostly the 50's.

Made a trip to my old stomping grounds of New Bedford, MA. With the exception of the Coast Guard no longer being at the State Pier, and the two large waterfront restaurants being closed, the place looks pretty much the same, tired and run down. When I tried to take some pictures I discovered that the camera battery was dead. Oh Well, not much to see anyway.

On the road to Provincetown, at the end of Cape Cod, a road sign for the next two towns, "Mashpee" and " Sandwich", doesn't sound too tasty. At Provincetown I wandered around the town and pier, had lunch (fish & chips) and took a lot of pictures.

From here I will be heading down the coast to Florida with a couple of overnights. The first will be somewhere around DC or Maryland, the next somewhere around Georga. First long stop will be Cypress Cove Nudist Resort in Kissimmee (near Orlando).

ON TO BETTER WEATHER!!!
.

Cape Cod