Mass to Fla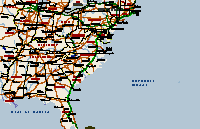 KISSIMMEE, FLA
Albums
EPCOT ALBUM
DISNEY-MGM ALBUM
FANTASYLAND ALBUM
ANIMAL KINGDOM ALBUM


On I-95 heading south. Since the stops between Cape Cod and Florida will be overnights I'm covering the whole distance in one report.

In Mystic Conn gas is $2.28/gal.

Spotted in DC, an informational sign directing the way to the Amtrak Auto train? This requires some research. Here's what I found on the net;

Amtrak's Autotrain goes from Lorton, Va., to Sanford, Fla., every day at 4 p.m., arriving around 8:30 the next morning. Coach fares range from $96 to $187, including a full dinner and continental breakfast; half-price for kids age 2 to 15 (under 2 are free). Book early: Prices climb as cheaper seats sell out. The vehicle fee is $140 to $281 for cars, $228 to $455 for SUVs and trucks. Reserve by Aug. 22 for travel through Aug. 27 and two children ride free with adults (promotion code H400). Info: Amtrak, 800-872-7245, www.amtrak.com.

Trip was pretty uneventful, I didn't get lost and I managed to get as far as Bar Harbor RV Park. No, I'm not traveling backwards, this Bar Harbor is near Belcamp Maryland! My problem with the chassis battery is getting worse so I'll spend a couple of days here to correct the thing. For awhile now, I haven't been able to start the engine without using the emergency crossover, and now it's gotten to the point that nothing on the chassis battery works. Of course once I get the engine running then everything works because they are being supplied by the generator.

RV PARK REPORT: Bar Harbor RV Park & Marina – Abingdon, MD.
Recommended: This park is located on the Bush river and is very nice. It has a marina, fishing wharfs, and a small store.

I ended up spending 3 days here. I replaced the chassis battery on the first full day and checked out the starting/electrical circuits with no luck. The problem persists so I got in touch with a local RV tech. He came out the second day and found the problem in about 20 minutes. It was the latching relay (disconnect switch). He had one in his truck so the problem was solved in another 30 minutes. The third day I hit the road again, next stop should be somewhere in Georgia.

North Carolina
Disney World ticket offices started showing up all along I-95. At exit 150 there is an Orlando Preview Center! The amusement parks have a long reach!

I also spotted lots of Power Co. trucks from the Northern States heading north from Georgia and Florida. I'm taking that as a Good sign

ROAD REPORT: I know I wasn't going to include this category but I had to make note of the I-95, conditions, starting at mm 159, the pavement is concrete with joints that feel like railroad ties driving across them.


South Carolina;
SC has a lot of the concrete pavement with the bad joints too. SC also has dedication fever; it looks like they've dedicated every highway, overpass, interchange, bridge, and even pedestrian overpasses, to different people.

Well, I didn't make Georgia but I'm close.

PARK REPORT: Florence KOA Florence SC
Recommended: This typical KOA park is just off the freeway. But after crossing over I-95 you have to make an immediate left! The park sign is somewhat ambiguous and I had to stand on the brakes when I realized that I was supposed to turn left!. This was strictly an overnight stop. I hit the road at 8:00 AM and headed for Florida.

Wagons Ho! South is the direction.

South Carolina/Georgia border;
In SC the highway is 4 lanes divided and the speed limit is 70, in Georgia the highway is 6 lanes divided and the speed limit is 65! Go figure!

Florida
I-95 pavement southbound through Jacksonville is a mess!

After a little difficulty I found Cypress Cove Nudist resort in Kissammee (Orlando). The hurricanes pretty much decimated the street/highway signs. While they have already replaced most of the major free/toll way signs, they haven't got to the local ones. I had to rely on the mileage marks from the "Streets & Trips" software. Luckily they were very accurate. When the printout said to turn at x miles/yards, I did. With the exception of a bunch of discourteous drivers who wouldn't let me change lanes so I could make the left turn into Cypress I arrived in good shape. It's great to be back in warm weather!

Since Cypress is a nudist resort, I'll put my RV park report on it on the AANR page.

Since I'm only a few miles from Disney World, I had to visit. I spent 4 days there and still didn't get to see everything. Next winter I plan on spending at least a month in Cypress Cove. Disney seems to have weathered the hurricanes pretty well. There was very little visible damge. Epcot had the International Food Festival going with food booths scattered all the way around the lake. I ate my way around! I'm not sure if it's because of the hurricanes or if it's just the time of year, but the crowds were a lot smaller than I expected. Between that and the "Fastpass" system, I never had much of a wait at any ride or exhibition, about 10 minutes, max. I never got the chance to see Disney Mainstreet or go to any of the nightspots. Next time!

As far as damage,I can't say the same about Cypress Cove. They had a lot of trees down and roof damage. But they have it well under control and were fully open for business. The whole Florida area could be called "Blue Roof Country" due to all the blue tarps covering the roofs.

Next stop is Sunsport Gardens in Royal Palms, another Nudist Resort.