Updated 03/20/2008

DISCLAIMER: Although I believe this information was correct when I wrote it, and may still be correct when you cross the border, you have to watch out for what I call the "Red Clown Nose Contingency" (RCNC). If your situation is the least bit out of the ordinary, you run the risk of allowing the border official to deviate from his normal routine. And no matter what the rules say, the official standing in front of you has the final say. So if he says that you have to be wearing a Red Clown Nose to get across then, unless you have immediate access to someone higher in the food chain, you better start looking for a costume shop!

So beware of the RCNC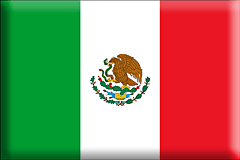 MEXICO

You will need a valid drivers license; those issued by most other countries are reconized by the Mexican Government.

You will also need proof of citizenship to get back into the U.S. Your drivers License isn't considered proof of citizenship so you will need one of the following;

Certified Birth Certificate, sometimes titled "Certification of Live Birth' or something along those lines; this is NOT the one with your footprint on it that is handed out by some hospitals. And 2 valid picture ID's (acceptable by the WHTI) Or;
Valid Passport or the new Passport Card; Or
Valid Military ID card; Or
Certified Certificate of Naturalization.
These requirements are scheduled to change in June 2009. More on this subject (and the Western Hemisphere Travel Initiative) can be found at the US State Department website.
You will also need a valid registration for all your vehicles. The person on registration must be with you.
If there are lien holders on the vehicle(s), you will need a letter from the lien holder authorizing you to take the vehicle across the border. This includes ATV's, trailers, boats, boat trailers, and motorcycles above 250 cc. Each driver is allowed only one vehicle (excluding the new 10 year RV sticker; see Temporary Import permits for RV's).

You will need insurance; see Mexico Insurance.

You will need at least 3 copies each of all of the above. You will be required to show for the original for inspection and leave a copy of these at various places. Normally it is one copy for the Migración office and one copy for the Banjercito (bank). In some cases you might have to go to two different windows at the Banjercito, one for the FM-T's and one for the vehicle stickers, and both will ask for copies; hence 3 copies.

You will also need copies of the paperwork you are issued. There are copy centers co-located with the Banjercito's, where, for a nominal fee, you can get these documents (and any that you didn't bring copies of) copied.

Finally, to get vehicle permits, you will need a valid U.S or Canadian credit card. If you don't have one you will have to post bond on all the vehicles. This is expensive and complicated, and is based on the value of the vehicle. If you're going this route, check with the local Consulate ahead of time.

FAQ: Tourist Permits (FM-T - Forma Migratoria - Turista):
The Mexican government assesses a permit fee of approximately $20 U.S. for each visitor entering Mexico. If traveling on business or as a student, contact the nearest Mexican consulate for information on obtaining a business or student visa. The fee must be paid in order to have your tourist permit validated if you plan to remain anywhere in Mexico for more than 72 hours, or stay less than 72 hours and travel beyond the "border zone,"defined as an area between 20 to 30 kilometers of the border with the U.S., depending on the Mexican state. See "Baja FM-T" and "FM-T Exemptions"

A government-issued tourist permit (commonly referred to as a tourist card or an FM-T, but actually a form) is available upon presentation of proof of citizenship from Mexican consulates in the United States and Canada, or immigration of fices at of ficial points of entry. Prepaid permits can also be ordered (on-line) from certain travel clubs; among them are Vagabundos and Discover Baja. If you're entering Mexico by land, it is advisable to obtain your tourist permit prior to leaving the United States; especially if you're driving anything that can't be parked in a passenger car parking spot. Parking any form of RV at the border stations is near impossible. If you're arriving by air, it is distributed on the flight.

If arriving by land, the tourist entry fee is paid at a branch of any bank operating in Mexico or through the bank window at the border (a list of banks at which the fee can be paid is shown on the back of the tourist permit form). Upon payment, the tourist permit is stamped with an of ficial "Fee Paid" designation. Although the regulations say the fee may be paid at any time prior to leaving the country, it is difficult to get across the border without paying for it. When crossing at Lukeville/Sonoyta the Migración is on Mex-2, about 7 miles east of Sonoyta. At Nogales, the Migración is at KM 21.

In Baja, you can use the Migración at Ensenada* or if you're heading for Baja Sur, the checkpoint at Guerrero Negro**. Almost all large towns have a Migration office and a bank. All visitors are required to produce verification of payment by showing the "Fee Paid" stamp on their tourist permit upon departing Mexico. If you're crossing at Tecate, you can park in a pay parking lot on the U.S. side, walk across and get your paperwork. Since the town of Tecate is up against the border, you can then walk 2 blocks and be in the town square. There are stores, restaurants, and a bank around the square. You can try out your ATM card at the bank and get some pesos, have lunch at one of the restaurants, and sit in the square for awhile before walking back across. Tecate is my favorite border town and the only one I would recommend doing this. I sometimes walk across just for a day trip.

The procedure goes something like this; you go to Migración and get the FM-T, you take the permit to a copy office to get copies made. Then you go to the local bank (not always co-located with the Migración) pay for the permit and get the "Fee Paid" stamp. The bank may keep one of the copies. You then take the permit and the other copies back to Migration, where he will check your stamps and take one of the copies. You are now ready to go (or to start all over to get your Temporary Vehicle Permit(s) if you didn't plan ahead). See the Temporary Vehicle Permits FAQ for the area you're going to or through.

*The official at Ensenada has been charging a fine for not getting your FM-T at the border. This is apparently a legit fine because you don't pay him. you pay at the Banjercito when you pay for the FM-T.
**The office at the Baja Sur border isn't always open, so don't rely on it unless you have time to hang around for a day, waiting for it to open.

If arriving by air, the fee is included in the price of the ticket charged by the airline.

If arriving by cruise ship, the fee is collected upon disembarking in your first Mexican port or is included in the purchase price of a cruise, but only if the stay is longer than 72 hours.

FMT Exemptions are as follows:
• Visitors traveling by air or sea anywhere in Mexico and staying less than 72 hours
• Visitors traveling by land to destinations within the 20-kilometer (12-mile) border zone, regardless of length of stay
• Those visiting as students (as defined by Mexican immigration laws)
• Visitors traveling by land beyond the border zone and staying more than 72 hours, but limiting their visit to the following destinations/tourist routes:

Tijuana to Ensenada, B.C.;
Mexicali to San Felipe, B.C.;
Sonoyta to Puerto Peñasco (Rocky Point), Son.;
Ciudad Juárez to Paquime, Chih.;
Piedras Negras to Santa Rosa, Coah.;
Reynosa to China, N.L.,
Reynosa to Presa Cuchillo, Tamps.

The single-entry tourist permit is valid for up to 180 days and must be returned to Mexican border officials upon leaving Mexico. These are normally what are issued when entering by air or sea.

A multiple-entry permit allows unlimited entry into Mexico within the 180-day period. These are issued when you enter by land.

If a tourist permit is not used within 90 days of issuance, it becomes void. Carry your FM-T with you at all times while in Mexico. If you lose it, a duplicate can be obtained from local immigration officials.

Make sure you turn in the FM-T when you leave Mexico or shortly thereafer. You can also turn it in at most Mexico Consulates. This wasn't a big deal until lately when they computerized the system. Now you run the chance of having a problem on your next trip.

FAQ: MEXICO INSURANCE

There seems to be a lot of confusion about Mexican Insurance so I thought I'd take a stab at putting together this little primer. My experience is primarily in Baja but this will apply anywhere in Mexico. You will probably see signs at the border stating insurance is required but I haven't been able to find any such law. I've also never been asked for it while getting my vehicle permits. That said, please read the following:


Mexico Insurance:

Applies to Baja and mainland Mexico
(A lot of this also applies to boats, trailers, and "street legal" motorcycles over 500 cc).

Anytime you cross the border, while it's not a law, you should have (or get) Mexican insurance. This applies even if it's only a short visit of a few hours. US and Canada liability insurance is not recognized in Mexico and without liability insurance, you will end up in jail if you're involved in any kind of accident. Traf fic accidents are considered felonies in Mexico and if you don't have insurance, they hold you and impound your vehicle until fault is determined and restitution is arranged.

It is also recommended that you get the "Legal" rider; this provides you with an on-the-spot agent to help you with the paperwork and navigating the sometimes-confusing (to gringos) legal system. Make sure they have reps in the area you are traveling and provide you with a Mexican 800 number,

If your US insurance does not provide for Fire/Theft/Collision coverage on your vehicle in Mexico, (and most don't) then it is recommended (and probably required by your lien holder) that you get a full coverage policy, not just Liability/Legal. These policies are based on the current bluebook value of your vehicle. You will have to provide this dollar value, so check it on the internet ahead of time. One source for this is the online NADA Guides at NADA Guides. This site covers autos, RV's, boats, and motorcycles.

Historically, the way the policies are priced (both full and liability/legal), if you're going to spend more than 3 weeks in Mexico, it's cheaper to get a full-year policy. Get quotes both ways.

If your vehicle(s) are financed, you will also need a letter from the lien-holder authorizing you to take the vehicle across the border. Most lien-holders require that they be listed on the Mexican insurance policy so you should get that letter before buying the insurance.

Another thing to remember, most RV/Auto/Boat policies don't cover theft of personal items (except for full-timers RV policies). This is normally covered by your home-owners (or renters) insurance, which in most cases also isn't valid in Mexico. So check with your home-owner carrier and consider picking up a personal property rider from your Mexican provider or adding it to your US policy (if it applies in Mexico).

One final item, if your US insurance does cover you for Fire, Theft, Collision in Mexico, make sure that you have a valid Mexico 800 number to call. Most US 800 numbers do not work in Mexico (or Canada).

A word of warning; not all of the insurance sellers along the border are legit so, if you're buying at the border, make sure you pick a good one. Insurance is probably the easiest item to take care of for a border crossing because you can do it in advance, either buy it through a travel club or on-line.

Most of the on-line sites allow you to get a quote, pay for the policy, and print out the policy, without getting out of your pj's.

Two of the better known travel clubs for Baja and what they offer are:

Vagabundos del Mar: FMT (visa), Insurance, Fishing License, Boat License, Travelers Aid, On-Line Forum, Med Evac Services, Caravans, Fiestas, Tours & on-line road, weather, and fishing reports. Discounts at most RV parks and many restaurants and other business's in Baja. Club also has functions and get-togethers in the US.

Insurance is through AdaVis Insurance, Quotes and purchase via telephone/fax.

Discover Baja: Same as above (with the exception of the U.S. get-togethers), plus Spanish lessons and Satellite Phone rentals.

Insurance is through GE Seguros & ACE Seguros. Quotes, purchase, and printout on-line.
Both of these have insurance for all of Mexico, not just Baja.

For more, just Google "Mexico Travel Clubs" or check out Mexonline Travel

Mexico Insurance Agencies: Just Google "Mexico Insurance" or see Mexonline Legal for a list with links. Lewis & Lewis and Sanborns are both popular with RV'ers.

Since I've never been involved in a claim in Mexico I can't speak from personal experience about the service, but I've used both Lewis & Lewis, ADA Vis (through the Vags') and ACE Seguros (through Discover Baja). The Vags were the lower of the three but the ACE had more extras. I no longer have my old Lewis & Lewis policy and can't remember the cost or coverage so can't comment on it.

If I've erred or missed something, please let me know at mike@turtleandtoad.com

NOTE: ALL OF THE BELOW IS FOR PRIVATE VEHICLES, BOATS, TRAILERS, ETC. IT DOES NOT COVER PUBLIC, FOR HIRE, OR COMMERCIAL EQUIPMENT.
GENERAL: Temporary Import Permits (TIP) are issued by the Banjercito, not the Migracion office. TIP's are required for all motorized vehicles, trailers (both camping/travel trailers and boat/hauling trailers), Motorcycles, and ATV's. Exceptions are listed under the various headings; TIP's are available at almost all border Banjercito offices and "port of entry" offices throughout Mexico.

TIP's are also available on-line at Banjercito.com.mex. A word of warning, this site is very buggy and not very "user friendly". More on this site below. TIP's come in several flavors. A TIP for a boat, RV, trailer, or ATV is good for 10 years. A TIP for a car, motorcycle, or small/medium duty truck (including the tow vehicle for a 5th wheel or travel trailer) is only good for the length of your FM-T (6 months, max).

To get a permit you must have a FM-T (and copies) so get your FM-T first. Additional required documents are listed under the various headings;
VEHICLE TIP'S
Documents Required:
Proof of Citizenship (and copies)
Drivers license (and copies)
Registration (and copies)
Letter from lien holder (and copies)
Insurance (and copies)*
Credit Card (Mastercard, Visa, AmEx, & Diners Club are the only ones currently accepted)**.
*There is no federal regulation requiring you to show proof of insurance, but there are big signs in the Banjercito office stating that it is required. Even so, I've never been asked to show proof of insurance.

**If you don't have a credit card, you will be required to post a bond. This bond is based on the model year of the car and can be quite expensive. Check with the local consul for the latest costs.

MAINLAND MEXICO; Federal Temporary Vehicle Permits (not the "Sonora Only" permit discussed below) are required everywhere im Mexico except where listed below.

BAJA AND NORTHERN SONORA; Temporary Vehicle Permits are not required anywhere on the Baja penensula and the northern part of Sonora over to and including Puerto Peñasco (Rocky Point).This is the "exclusion zone".

SONORA; Here is where the confusion starts! Besides the exclusion zone (see above), there are two other exception areas in Sonora. They are known as the "Sonora Free Zone" and the "Sonora Only Zone". The names aren't the only confusion factors as will be pointed out below

SONORA FREE ZONE; This zone extends down to Empalme, not counting the exclusion zone. Inside this zone you are supposed to be able to travel freely with just your FMT. No vehicle permits are required. However, there is one catch; you have to enter through Nogales. Coming from anywhere else you will be required to get Federal Temporary Vehicle Permits and, if applicable, RV permits. This is not only true for the other border crossings but also anyone coming in from the northern exclusion zone (Baja), either by land or by ferry. The previous may have been changed so that you can get the Sonora Free Zone permits in places other than Nogales.

SONORA ONLY ZONE; This covers all of Sonora not covered by the above. This Temporary Vehicle Permit is issued by the State of Sonora and not the Federal Government. Another little glitch here is that you can't get this sticker at the border crossings, you have to get it at Emplame (although I've heard rumors that they are also available at the KM 21 checkpoint). Of course if you came in from somewhere other than Nogales, you already have the Federal Sticker, so don't need this one.
Something introduced in December, 2005 is the 10 year RV permit. These are for Class A, B, and C RV's They are also availble for 5th-wheelers, BUT it is only good for the 5er, NOT the tow vehicle, it still needs a 6 month TIP. As stated, these are good for 10 years and, for the qualified RV, this is the only thing offered. The 6 month Temporary Vehicle Permit is no longer available for these RV's.
If you sell or trade your RV, or have to replace the windshield, you must carefully peel the holograph off (a hair dryer on the outside of the window helps) and mail it and a specific form and the rest of the required paperwork to Mexico City. Allow a couple of months for it to be processed. No one has been able to get anyone except Mexico City to accept this paperwork.
I have the form available in pdf format (in both English and Spanish) for anyone that needs it. Just drop me a line. Once I reconfigure this website to handle FTP downloads, I'll put the form there.

On edit 5/27/06.
The Banjercito has set up a website for issuing TIP's. http://www.banjercito.com.mx/site/imagenes/iitv/instruccionesIITV.html is a Banjercito website for getting your TIP's (Temporary Import Permit). You can get TIP's for your vehicle, motorhome, or boat.

The site allows you to select your language (Spanish or English) and then proceed to the selected TIP. Right now , to be polite, I'll call it a Work in Progress, but in it's present form it's not very user-friendly..

This site utilizes pop-up screens, so if you don't see a response from clicking on a selection, try it again but hold down the CTRL (control) key while clicking.

You can use this site to either "pre-register" (do all the paperwork on line and pick up the TIP at the border crossing) or actually get your TIP in advance. However, some restrictions apply.

To get the TIP you have to complete the application procedure up to 60 days prior to your trip, and a minimum of 1 month. This is to allow time for processing and mailing. The cost is $45 U.S. and you can pay with most major credit cards.

It is recommended that you visit the site before you want to actually use it, and read the "pre-register" pages, especially the "Required Documents" page so you can gather everything you need ahead of time. Even if you don't use the site to get the TIP, this information is also what you need to get it at the border.

This site starts with a "computer configuration". Basically, they are asking you to clean out your internet Temp files and cookies, including the offline pages. For XP users, they also ask you to enter their URL into the pop-up blocker. I tried it both ways, with and without cleaning out. The results were the same.

The "Pre-register" section has instructions and lists of required documents, so feel free to browse through it. In fact, you should read every screen for the TIP you're going for prior to actually starting the procedure (or heading for the border).

The site has many bugs and flaws, and barely usable. For example, I couldn't get any instructions for a RV TIP. Every time I tried, I got the instructions for the boat TIP. And that's after clearing out my Temp files. You also can't use the 'ctrl/F5" trick to refresh a page. All that results in is an error message (in Spanish)

For you non-geek types out there, NO site should have to ask you to clean out your cookies and temp files. This is a dead give-away that the author is a complete novice in writing code. Another give-away is the disabling of the refresh page shortcut (ctrl/F5).

Another problem is when you are actually trying to fill out the form; you are limited to drop-down menus. These drop downs are totally useless because all it lists under "Maker" is auto and truck manufacturers. I couldn't find a single US or Canada RV manufacturer listed. The boat form has a similar problem but at least there are a couple of recognizable boat manufacturers listed.
The trick here is to know what "Otre" means in spanish! It means "Other". By picking this option you can then fill in your information.

At least they are trying, and maybe it'll become a usable tool in the future.

Grade: "D" for effort, "F" for usability!
On edit; The reports I've received from people that have actually used this site has been mostly positive and the turn-around time has been excellent. People have reported getting the TIP by private messager within a couple of days of submittal.
Returning a TIP after leaving Mexico
The introduction of the 10 year RV/Boat TIP exposed an inherent problem in the system. If you decide to sell or trade in your rig, or you replace your windshield, how do you turn in the hologram and paperwork AFTER you've left Mexico! Experience has shown that the Banjercito people at the border won't have a thing to do with it unless you show up with the vehicle. Supposedly, you can use any Mexican embassy or consulate that has a Banjercito; but I don't have any reports of this actually working.
Well, there is a way to do it. Administración Central de Planeación Aduanera in Mexico City will take care of it by mail. Just click on the link to view and copy the pdf form. It is in two pages, the first one is the same as the second only in english. If you submit the form, use the spanish version. The english version is just to help you figure out what they are looking for. The form itself isn't necessary (and is out of print), a letter describing your situation and the supporting data is all you need. Supporting data would include; the paperwork that came with the hologram, a bill of sale (certified), an invoice for the new windshield, a document of scrap, etc. According to Ricardo Jesús Rojano Perez at the Administracion, it can be in either English or Spanish. DO NOT entrust the paperwork to the Mexican Postal Service, send it via DSL, FedEx, or UPS to make sure that it arrives in a timely manner. Past experience has shown that you should get an Importacion Temporal De Rodante Certificado De Retorno (TIP Cancellation Receipt) back in about 4 - 6 weeks. If you need to, you can call them at the phone number listed on the form. They normally have English speakers available.
Unfortunately, this method doesn't work so well if you are trying to cancel a TIP that has never been used! For example, you apply for and get your TIP via the internet, then the trip has to be cancelled. You'd think that you could cancel the same way as above. But not so! It can be done but it's a little more involved. I'm working on straightening out just how involved now. I've heard that you need a certified letter from your local DMV, on DMV letterhead and certified, stating that they have actually seen the vehicle and it is, indeed, still in the US (or Canada I suppose). And that the Banjercito is not the people to contact. When I get some solid facts I let you know.
There is also a 10 year TIP for boats over 4.5 meters (14.7 ft). Like the other TIP's you must be able to prove you are the registered owner of the vessel and that you are a citizen of the country you're coming from. You will also be required to show that you are the legal owner or have permission of the legal owner to take the vessel into Mexico. Commercial or charter vessels are not eligible for this TIP.
I have to take of my rose-colored glasses now and address something that almost everyone will encounter at some time; a cop with his hand out! You will get pulled over by the police (local, transit, state, or federal; there are a few bad apples in all of them) for a document check or a real or imaginary violation. They will ask for your drivers license and other documents. They will then inform you of your infraction and say that you will have to follow them to the police station where you will have to pay X amount; however, if you don't want to waste your time going to the station you can pay them. Be aware that, in almost all Mexican States, traffic violations are a ticket offense that you can pay at any OXXO store or a multiple of other places. You DO NOT have to go to the station for traffic violations. The police are NOT authorized to collect fines. Also, the fines are extremely reasonable and the amount they are quoting is vastly inflated.
First I'd like to state my position on mordida of any kind. Do NOT pay it. Even if you're guilty. Just tell them to write the ticket and you'll pay later. If your spanish or their english isn't good enough to get this point across, insist on going with them to the station. This is the last thing they want to do and they will back down; it may take awhile but they will. Some people just pay what they are asking so they can continue on their way. It's up to you, but be aware that there are federal and local agencies who's only jobs are to prosecute Mordida. These agencies are called the Sindicatura. I have a Sindicaturea poster that I put on the left rear corner of my RV that seems to keep most of the cops on good behavior. Click Here for a jpg you can copy.
Mexico is a great place for kids! Mexicans love them! I recommend that, if you don't have any of your own, rent a couple, they are great ice breakers (just kidding).

You will need the birth certificates for all of your children. These are also needed to get back across into the U.S. If both parents aren't traveling together, a notorized letter from the missing parent granting permission for you to take the kids into Mexico is required. A form for this is available at Parental Affidavit. Make sure you get it notorized!

If you are bringing a dog or cat, make sure you have a current rabies/shot record and Vets Certificate of Health or you might have to leave fluffy behind when you come back to the states. Don't even think about bringing your pet gerbil, hamster, pot-bellied pig, or goldfish (or any other unusual pet) unless you are willing to put them in quarantine for a couple of months and have something higher than an FM-T. Do NOT let your pet associate with the local street dogs or they might come up with a couple of diseases that don't exist in the U.S.
Both boat and fishing permits are issued by the "Department of Environment, Natural Resources and Fisheries". I recommend that you get these before reaching the border. These licenses are good for 1 year from the time of issue. They are available on the U.S. side from many sporting goods stores in the border cities and from the various travel clubs.

A Boat Permit is required in Mexican waters for all inflatable, car-top, trailerable, or non-trailerable boats, as well as any dinghy or additional boat aboard the vessel, regardless of size or constructon, that will be used for sport fishing and that are registered as Pleasure Boat permits. They will not be issued to any boat which has a commercial registration or which will be used in a commercial capacity as a sport fishing charter, commercial fishing, or sightseeing where passengers pay a fee. Do not apply for a Boat Permit if you are engaged in a commercial activity or if your boat is registered as a commercial vessel.

If a boat such as a kayak or inflatable is used only for sightseeing purposes, it is not required to have a boat permit. However, you are not allowed to have any fishing gear on board. If so much as a stray sinker or hook is found on the boat, you will be fined and possibly have the boat confiscated.

Trailered boats are subject to the same Temporary Vehicle Permit process as other vehicles. I've been told that there is a 10 year permit available, similar to the RV permit, but haven't been able to confirm that. If anyone has info on this please drop me a line.

If you're entering by sea, or are going to moor your boat in a port, you must also have a "Harbor Permit" issued by the local Captain of the Port. This permit must be obtained for every port you enter.

A copy of the current registration must be submitted with your application for a permit.

All Fishing Licenses and Boat Permits are Personal and Non-transferable. Any alteration, mutilation or transfer of these documents will render them void and may result in fines or temporary seizure of your boat. HANDLE THEM WITH CARE!
A Fishing License is required for any individual, regardless of age, who wishes to fish in fresh or salt water in Mexico. This rule applies to all people fishing out of boats or fishing underwater while skin diving. A Fishing License is not needed when fishing from land.

All passengers, regardless of age aboard a boat in Mexican waters that is engaged in fishing must have a Mexican Fishing License in their possession, regardless if they are fishing or not.

There ARE fishing limits! The following was taken from the flyer that is handed out with the boat and fishing licenses;

MEXICAN SPORTFISHING REGULATIONS

In order to operate a boat that carries fishing equipment in Mexican waters, it is necessary to hold a valid boat permit and personal fishing license for everybody aboard the boat, regardless of age and whether fishing or not. A Fishing License is not required when fishing from land.
Only one rod or line with hook is permitted in the water, per person, but there is no restriction regarding the number of replacement items.
This fishing license allows the capture only fin fish. It does not allow the capture any mollusks or crustaceans, and their capture by anyone is strictly prohibited.
Totuava, turtles, and marine mammals are under protection of the Ministry and may not be captured at any time.
To capture bottom fish, up to four hooks on a vertical line may be used.
The use of electric reels is restricted to disabled fishermen only, after written authorization for the Ministry before use.
BAG AND POSSESSION LIMITS

In ocean waters and estuaries the limit is a total of ten fish per day, with no more than 5 catches of a single specie, except of the species of Marlin, Sailfish and Sword fish and Shark, of which only one specimen of either is allowed, and which counts as five toward the overall 10 fish limit, or Dorado, Rooster fish, Shad, or Tarpon, of which only two samples of each specie are allowed, and which count as five toward the overall 10 fish limit.

Limit on in inland bodies of water (rivers, lakes, dams, etc.) is five fish per day, whether of a single specie or in combination.

Underwater fishing is limited to five fish per day, using rubber band or spring type harpoons, and only while skin-diving.

There is no limit to the practice of "catch and release", as long as the fish that exceed the bag limit be returned its their environment in good survival condition.

Where sport fishing is conducted from boats out at sea for longer than three days, the bag limit will be the equivalent of three times the amounts mentioned above.

VIOLATIONS

It is illegal to capture and maintain alive any fish for ornamental purposes.
It is prohibited to receive any financial gain from the product obtained through sport fishing.
It is prohibited to dump trash, litter or substances that harm the aquatic flora or fauna, whether on lakes, river banks, shores or oceanic waters.
It is prohibited to collect shells, corals, sea anemones and snails, or to disturb the original ecosystem environment.
It is prohibited to practice sportfishing 250 meters or less from swimmers.
It is prohibited to use arti fi cial lighting to attract large quantities of fish.
It is prohibited to discharge firearms in Mexican waters.
Fish caught under a sport fishing license may not be filletted aboard the vessel from which it was caught
It is requested that all unusual activities, occurrences or record catches be reported to the nearest office of the Oficina de Pesca, or to its representation in San Diego , CA., in order to ensure the preservation of natural resources for the continued enjoyment of all fishermen.
WE INVITE YOU TO PRACTICE RESPONSIBLE SPORTFISHING!

Oficina dc Pecsca 2550 Fifth Avenue # 15 San Diego, CA. 92103 Ph: (619) 233-4324 Fax: (619) 233-0344
CROSSING BACK INTO THE U.S.

I cannot be held responsible for anything listed below; due to the various pests and diseases (including terrorist) the rules change rapidly at the borders. The below was current when I wrote this.
Documentation for Reentry into the U.S.
(Taken from the US Customs website)

To gain reentry into the U.S. it is important to have an acceptable form of photo identi fication and proof of citizenship. A passport fulfills both of these and is the most recommended form of ID to have due to heightened security at our borders.
If you do not have a passport, be sure to bring a certified copy of your birth certificate or baptismal record AND a photo ID. Acceptable forms of photo ID are: military ID, driver's license or state ID card. If you do not have a certified copy of your birth certificate, a U.S. state or federal government issued birth record or a Certificate of Citizenship (not an affidavit of citizenship) or Certificate of Naturalization are acceptable along with acceptable photo ID.

Laminated birth certificates and voter registration cards are not acceptable.

Tobacco Products: Within the duty-free personal exemption limits, you are allowed to return to the U.S. with 200 cigarettes or 100 cigars (excluding Cuban products) that were previously exported (usually found in duty-free shops in the foreign country).

U.S. Agricultural Quarantine Information
(Taken from the US Department of Agriculture pamphlet)

Notice to Travelers
Declare all agricultural items you bring from Mexico. Failure to do so can result in delays and fines of $10,000 or more. Fruits, vegetables, mats, and birds taken from the U.S. to Mexico may not be allowed to reenter. Consult in advance with inspectors of the U.S. Departmet of Agraculture. All agricultural products are subject to inspection.

Prohibited Items
Agricultural items are prohibited if they can carry plant pests or animal diseases.

Fruits and Vegetables: All fruit not on the PERMITTED ITEMS list below are prohibited. Potatoes, including Irish potatoes, sweet potatoes, and yams, are prohibited.

[Exception: Cooked potatoes are permitted. Avocados without seeds are permitted, except in California , Fresh squeezed Grapefruit and Orange juice is permitted]



Plants and Seeds: Special permits are required. Some plants are prohibited. Check in advance with agricultural inspectors.

[Exception: Dried plant parts, such as for medicinal purposes, are permitted]



Meat and Game: Raw and cooked pork, including sausages, cold cuts, skins, and pork tacos are prohibited.

[Exception: Shelf-stable, canned pork and hardcooked porkskins – cracklings- are permitted]

Poultry – raw meat from both domesticated and game fowl is prohibited.

[Exception: Thoroughly cooked poultry is permitted]

Game – Check with agricultural inspectors in advance.

Eggs: Prohibited,

[Exception: Boiled and cooked eggs are permitted]



Live Birds: Wild and domesticated birds, including poultry, are prohibited. To import personally owned pet birds, contact agricultural inspectors in advance.

Straw: Generally prohibited. This includes wheat straw, seeds, and all articles made from this material, including animal fed.

Permitted Items
In addition to the excepted items listed above, many agricultural items are permitted if they pass inspection to be certain they are free of pests, soil, sand, and earth.

Fruits and Vegetables: Permitted fruits are; Bananas, blackberries, cactus fruit, dates, dewberries, grapes, lychees, melons, papayas, pineapples, and strawberries. Most vegetables are permitted except for those in the prohibited list above. Okra, however, is subject to certain restrictions. Those little sour limones are now permitted.

Nuts: Permitted items are; Acorns, almonds, cocoa beans, chestnuts, coconuts (without husks or without milk), peanuts, pecans, pinions (pine nuts), tamarind beans, walnuts and waternuts.
Alcohol, Drugs, and Firearms:
(Taken from the U.S. Customs website)
There is a $800 exemption for gifts and personal articles you've purchased in Mexico; anything over that amount will be taxed.
One liter of alcoholic beverage per person over 21 is okay - more will be taxed; note that the state of Texas taxes all alcohol brought back from Mexico. (there is a higher limit for beer brought back through the California border crossings, if you're NOT a resident of California, but I've been unable to find that limit)
No steroids, period; make sure you have a prescription for any other medication. (Some medications, even though they are legal in Mexico, have not been approved for use in the U.S. These will be con fiscated, prescription or not.)
No illegal drugs; if you have the slightest amount, you can be fined and sent to jail -- your car may even be con fiscated.
No switchblade knives.
So many fruits from Mexico are prohibited in the US that you may as well not bring any back (see above).
No guns of any kind; even ammo is a no-no. You can get documentation showing that you legally purchased a firearm you're carrying in the U.S., but why bother taking a gun to Mexico?
Fish you caught in Mexico are okay.

(While doing this research, I stumbled across a (probably) little known prohibition: no clothing, purses, wallets or shoes/boots made of endangered species, like sea turtles. I hadn't known there was a market for sea turtle boots!)
Americans Living and Traveling Abroad
International Travelers Library