To Organ Pipe Cactus NM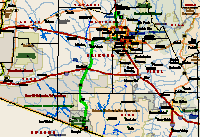 MEXICO 2006
Segment One – Phoenix to Organ Pipe Cactus National Monument.
After finally getting the green light from my doctors, I departed Shangri-La Ranch RV Resort in New River, AZ on March 1, 2006. My next stop should be Organ Pipe Cactus National Monument; at the end of AZ-85, just 5 miles from the Lukeville/Sonoyta Border crossing.

Organ Pipe Cactus National Monument isn't exactly Mexico but, since it's the start of my short foray into mainland Mexico, I'm including it anyway. My original plan was to start this trip on Feb 1, but when I developed a very erratic heartbeat, I had to postpone until the doctors were through with me. They never did find out what is causing the problem but were successful treating the symptoms. I've got some new meds that "muffle" the irregular heartbeats so I don't notice them most of the time. They say I'll probably have the problem for the rest of my life, but it's not life threatening.

Because I'm starting this trip so late, and because I have to be in Washington State to renew my drivers license in April, I'll probably just find a spot I like in Mexico and park for a couple of weeks. Then it'll be time to head home. I also don't want to be around when the "Spring Breakers" show up.

So, to quote Jackie Gleason, "And away we go!"
Mexico 06 Notes from the road.
At Gila Bend, I stopped for gas because I wasn't sure where the next gas station would be. Later I found that there are stations in Ajo, Why, and Lukeville. There also are Pemex stations after you cross the border all over the place in Sonoyta. More on that later. Big Rig Warning!! In Gila Bend, I tried to get into the Love's station just past the 85 jog but found that they didn't have anyplace for a big gas rig. So I turned around and stopped at the station on the east side of Hwy 85, just before the jog. A Standard station, I think.

On AZ-85 between Gila Bend and Ajo, a passing car threw up a rock that totally shattered my driver's-side side window. Luckily, all the windows on this coach are double layer safety glass with a gas in-between (except for the front windshield of course). The inner layer wasn't touched so I was able to knock out the remains of the outer layer so I could see, and I was back on the road. I just hope I don't get another strike on that window. I'll get it replaced when I get back to the US.

I spent 4 days boondocking at Organ Pipe Cactus National Monument (NM). Most of my time was spent hiking the desert, (see album) but after I rubbed a blister on my big toe, I settled for driving tours the last couple of days. I have to watch that, I never felt a thing; I just happened to notice it when I was putting on my socks. With my Diabetes, I could be facing amputation if I let something like that go. So I'll stick to driving tours for awhile. The NM has some great hiking trails and a good interpretive center. There is also a very good driving tour of Ajo Mountain, about 21 miles long with a natural bridge at about the halfway point. Some of the hikes take you to various abandoned mines and other structures. These hikes run from easy (can be done pushing a baby stroller) to extreme (might need rock climbing gear). There is an outdoor amphitheater, where evening programs are presented in the winter. They also have narrated van tours.

The Organ Pipe Cactus NM RV Park is a first-come, first-serve pay campground that seldom fills up. Some of the brochures say that the maximum length RV is about 32 foot. However, they have recently identified about 8 sites that can handle the largest rigs. There are no hook-ups but they do have a dump station and potable water fill stations. There are tables and grills at each site, and potable water taps and restrooms scattered around the campground. For the primitive camping types, there are campsites in the backcountry that you can hike into. For the nature lover and hikers, I strongly recommend a 3 -4 day stop here.

If you want to see the NM but really need your hook-ups, you can go to the Gringo Gap campground in Lukeville and visit the NM for day trips. Lukeville is 5 miles away and the entrance to Gringo Gap is on the east side of the road, right up against the border. Lukeville itself consists of a post office, gas station, general store, café, Mexico insurance office, a Rocky Point tour service, the previously mentioned RV park, and of course the the border crossing. All of these (except the RV park, gas station, and the border crossing buildings) are contained in a small strip mall type building up against the border.

Next stop, Santa Ana, Mexico (after getting through Migración).