EAST COAST OF MEXICO 2009
Day Five through Day 19 – Tampico, Tamaulipas, Mexico
Day 5, Friday, Dec 18; This has been one very eventful day! We were coming through Tampico via the airport when we went by a cop shop. The cops out in front started waving at us so I waved back and kept going. A couple of minutes later we have 2 cops behind us in a patrol car with the flashing light going. As the car came up along side our left rear corner the passenger cop spots our Sindicatura sticker and points it out to the driver cop. They discuss it for a minute and then pass us. The stayed in front until there was a long empty stretch of curb, where they pulled us over. The passenger cop comes to Robins window and asks us where we were going. I said Yucatan, He frowned and indicated that we should be on the bypass. Robin corrects me and said that we were going to the airport. The cop immediately smiled and said that we could continue on and have a nice day. I think he was doing a little face-saving. All this time, Kats rig is blocking one lane of traffic because there isn't enough curb space for her. I really hadn't heard much horn honking in Tampico until then.
As we were trying to find the turn to the continuation of 180D (which wasn't the hard left where S&T said it was, but a nice easy cloverleaf ramp to the right, unmarked of course) we managed to get lost in a shopping area with narrow one way streets. I was pretty sure I knew where we were supposed to go, and all we needed to do is get turned around and head the other way on the street we were on. But those one way streets had cars parked on both sides, so when I tried to make a right, I was stuck. I couldn't go forward and of course couldn't back up. Immediately I had 3 or 4 people giving me hand signal directions and a couple moving fruit carts etc, so I could complete the turn. I almost had it except for one small car. Well, someone found the owner and she came out and moved it. I was through!!. BUT, I had told Kat over the walky-talky to go straight until she could find a wider street to turn on, that we needed to get back to the street we had just came off of, only headed in the other directions. So that meant we were seperated. I found a wide spot to pull over and we sat there for about 20 minutes calling on the radio with no luck. I figured that we should continue on to a spot on our route where she would have to pass and wait. We found the access to 180D and the bridge exactly where I thought it would be and crossed over. On the other side of the bridge was a toll plaza, so we paid our tolls., pulled over at the plaza, parked and waited; calling on the radio every two-three minutes. We were getting responses but they were garbled and we couldn't figure out where she was. We did hear the word "help" and "accident", which really panicked us, but there was nothing we could do, since we had no idea where she was. Robin went to the little restaurant at the plaza and was able to get across that we needed to talk to the police, but someone that spoke English. One of the employees called 611 on the pay phone and got someone on that spoke a little english. But not enough to understand our dilemma. Luckily a man that was standing close by stepped up and asked us if he could be of assistance, in English!!. So he took over the phone and explained to the cops what was going on, where we had last seen Kat, and where we were now. The cops said that they would send someone into the area to look for Kat and also send someone that spoke english out to us so for us to stay put. After about 2 hours, we were really close to panic. So I unhooked the truck and we made preparations to go looking for her. The plan was that Robin would stay with the coach in case the cops showed up, and I would go back and try to raise Kat on the radio. Just as I was going out the door, my cell phone rang. It was a police officer that was with Kat.
Kat was fine, the accident was a clipped mirror on someone's truck, her coach was parked on the side of the road where I had figured to start my search, but wouldn't start again. However, her car was at a different location. It had come loose from the coach and was sitting under a bridge with the tow bar anchor assembly (and part of her bumper) torn out. So we arranged to meet at her car and take care of that problem first. In the process of finding her car, we were pulled over by two cops. They looked at my drivers license and TIP as I tried to tell them that we were looking for a lost friend. They pointed down the road and, about a half block away, was Kat and her car. They indicated that we should go down there, but kept my drivers license while we made the move. Once there they started taking (in Spanish, neither one spoke English) about some maneuver I had done that was illegal, and that they were going to have to write me a ticket and take me to the judge to pay it. I kept indicating that they should do just that! That's not what they wanted to hear, and he kept tapping the open ticket book with his pen, then tapping his breast pocket, then explaining again that he would have to take me to the judge. I finally told him to wait while I went over to tell Robin and Kat that I was going to have to go see the judge. Kat handed me a piece of paper with the phone number of the female commandant that had used her cell phone to call me and also had just dropped Kat off at her car. So I told the cop that he should call this number and ask for Angelina and gave him her badge number. The two cops looked at the phone number and said "police?" I said yes and they should call her. They handed my drivers license back and gave me a caution not to do whatever it was that I did, I agreed and they left. About 2 minutes later Kat's lady cop friend pulled up to see if we had met up. I told here what had transpired with the previous cops and she laughed.
I had seen a GM dealership just up the street, and even though the car in question was a Subaru, all we needed was for them to put the support assembly back in with Grade 8 bolts and rewire the electrical plug. So our cop friend stopped traffic so we could get out from under the bridge and back in traffic. After a lot of drawing and hand motions (and a trip back to Kat's RV, where she had put the ripped out support assembly) we made arrangements to get the work done. They said come back at noon tomorrow and it would be fixed. We then went back to Kats coach to see if it would start. It did and we went back to the toll plaza where we were told we could spend the night.
Enough for now. Time for bed. Will continue on Day 6
Day 6: Saturday, Dec 19; still parked at the toll plaza. I replaced both fuel filters on Kat's diesel coach and we tried starting it. It started and ran for about 2 minutes and then died. Nothing we could do would get it to start again. Kat called the insurance company that she had her Mexico Liability/Legal and road service with to see what they could do about the problem and (after about 4 transfers to non-english speakers) and taking the phone out to the Federale standing guard at the toll booths to explain exactly where we were, we were told that, being a Saturday, they were having a problem finding a tow truck that could handle a big rig and would call back. Sure enough, a few minutes later we were informed that a tow truck with a mechanic was on it's way and would be here in about 90 minutes. When he showed up, he pulled the bulk filter, cranked the engine over, and proclaimed that it was the fuel pump! There was very little fuel coming out of the filter head. Don't know why I didn't think of that. So a few minutes later Kat's coach is swinging on the hook and we are heading down the road. Actually, back through the toll booth and back into town. I guess the cops don't mind big rigs in town if they are swinging on a tow truck hook.
When we got to the diesel shop (A Kenworth dealer), almost back the Country Inn, it was closing time. But they decided they could work on it, even though it was a Cat engine (and the Cat dealer was across the street and down a block, we found out later), but not until Monday. Kat can stay in her coach and there is a night guard so that's set. We ran down the road and both purchased a couple of Mexican cell phones so we could talk to each other without having to run up minutes on our Verizon phones. I've got the old North America plan that covers Mexico, but Kat doesn't. And the Movistar minutes are much cheaper than Verizon for calling in-country.
We then took Kat back to her coach and we went back to our little campground in the Toll Plaza. Kat doesn't have her car back because the dealer closed at 1:30 pm on Saturdays. We won't be able to get it until Monday
Day 7: Sunday, Dec 20; the 3rd day at the toll plaza for us. Since it's Sunday, we decided it was a Wal-Mart day. Did I mention that it has been cold and rainy for the last couple of days? Well today isn't any different. Robin and I decided to drive south from the toll plaza and find where the bypass comes out. We were also looking for a place to get gas (running the gen set each night has been slowly draining my tank) and possibly a better place to boondock. Where we are is also a bus stop, and they stop right along side of us all night. We found a Pemex about 3 km down the road, and just past it is where the bypass comes out. At least for big rigs. There is another outlet onto 180 further south but that one goes through a small village that is closed to big rigs. This is something that is covered in the Church's book. We decided to drive the bypass from south to north so we would know what it was like. I'm not taking a coach through Tampico ever again if I can help it!
The first part of the bypass is residential most of the way, with lots of topes, potholes, traffic, and people. But it's doable. Here's update #1 on the Church's northbound directions. At 9.8 miles you will approach an overpass, Do not go up the overpass, instead stay to the right along side of the overpass. You will reach a level RR crossing and Hwy 70. Don't go over the overpass, this will put you on 70 west bound. You want to go right (towards Tampico). If you do go over the overpass and end up heading west, we can recommend the restaurant at La Cortadura; about 18 km down the road. It's called Restaurant de Mariscos. Great seafood, clean, and the owner speaks fair english. If he likes you he will show you his South Carolina Inmate ID card. He says that he was a migrate worker in the US up and down both coasts and got busted for stealing a 90 cent bottle of soda and spent 9 years in jail. I think there is more to this story, but didn't press him.
Once you get headed east on 70, you will find another change to the Church's book. Where they say that 'at 13.4 miles you will come to another intersection', replace the word 'intersection' with 'traffic circle'. Follow the signs to Libramiento Poniente Tampico. The rest is OK. The toll at the booth just before rejoining 180 is 22 pesos for a car and 42 pesos for an Autobus.
When Kat gets her vehicles all repaired and ready to roll, I will be leading her through the bypass. Like I said, I've learned my lesson. Even as bad as the bypass might be, it's still better than the downtown traffic and the cops. The best I can figure is that there isn't any actual law against big rigs in town, (hence us going to the airport was ok) but the cops have been told to discourage them. So they figured to do just that, and make some money at the same time. As far as I know, no one that has insisted that they wanted to see a judge has ever been written a ticket. But I don't need either hassle.
Well, we spent the rest of the day shopping and are now back at our lovely little spot at the toll plaza; and tomorrow is Monday. So maybe some of the mechanical things will get resolved.
Day 8: Monday Dec 21; we got a lot done but not enough to continue heading south. At this rate we will end up having xmas here! This morning we ran the bypass again to get back to the Kenworth dealer and Kat. We checked out all the Pemex stations along Hwy 70 for a place to drop anchor until Kats ready to go again. We found one, #5152 on the west side with a large gated truck yard in back. The rate seems to be 50 pesos/night and you pay on your way out. We continued on to Kenworth and Kat. They had gotten her rig started but it shut down again. The consensus is that it was airlocked and now it was being shut down on low fuel oil pressure. This was confirmed by the Cat computer. So they are now finding and fixing the fuel oil leak.
In the meantime we took Kat down to the GM dealer to get her car back. It was ready at 1 PM Saturday, but we were busy having Kats coach towed. So, now when we get there, we find that they did put the towing support back on, but they didn't cut away the fiberglass of the lower bumper, which is hanging down; and they also didn't rewire the towing receptacle. On top of that, the price more than doubled! They had quoted 4 hours at 250 pesos/hour (1000 pesos total) and were charging 7 hours and 2100 pesos. Kat got her back up and said that since the shop was only open for 5 hours on Saturday (the day they worked on it), she was only paying for 5 hours at 250/hr. Since the only one that spoke english (and quoted the price on Friday) wasn't available, we discussed this on a computer. One of the tech's set up Google Translator on his laptop and we took turns typing in our conversation. The shop was saying that the flat rate manual said 7 hours and weren't budging, Kat said she was quoted 4 hours but would settle for 5; and she wasn't budging either. Finally the general manager, who was in a meeting but being updated by text messaging, sent down that he would accept 5 hours. So while Kat settled up and took possession of her car we headed back to our coach, still sitting at the toll plaza. When we got there, we had lunch, hooked up the toad and headed for the bypass and Pemex station 5152 on Hwy 70.
So, here we sit, the 4th day in a town that was supposed to be an overnight stop. Waiting for Kenworth to find and fix the oil leak on Kats coach. Plus it looks like I'll have to finish the electrical repairs and cut away the damaged lower bumper on Kats car. It's now Monday, Dec 21, Xmas is Friday and we are still in Tampico. Originally I wanted to spend xmas week at Catamaco; then I decided that the Emerald Coast would be OK. Now it could be Pemex #5152 in Tampico. Whoopy!!! At least the weather cleared and warmed up.
Day 9: Tuesday, Dec 22; They have now decided that it's the primary fuel pump; or actually the internal bypass of the pump. The problem is that the part will have to be shipped down from Monterrey. They are going to pull the pump and bench test it before ordering a replacement. They can have it down here in 5 hours if the timing is right. But first we need to know that this is actually the problem. First night at the truck yard. These guys don't slow down in the yard; and they all are pulling doubles at 20 mph around us!! They also do repairs on their trucks here. One guy parked his rig at the back of the yard and pulled heads and pistons, then replaced the broken connecting rod and rebuilt the engine. All of this overnight. He had it running by 10 AM. Maybe we need one of these guys working on Kats rig. Another guy had trouble disconnecting from the trailer, so when he finally got loose, he parked the tractor under one of the streetlights (which just happened to be right in front of us) and him and a couple of other guys tore apart the 5th wheel (with lots of pounding and banging, accompanied by a radio) until about 11 pm. Then, with the thing repaired, it was Miller time, also accompanied by music, until about 1 AM. That, combined with a reefer truck parked next to us that had a noisy compressor motor, made for some restless sleep.
Bonitto Inn, Tampico
Day 10: Wednesday, Dec 23; We have moved again; it now looks like the part is only available in the US, so it won't be here until Tuesday, Dec 29. There is no way I'm spending the next week at the Pemex truck yard! So we have taken up residence in the front yard of the Bonitto Inn Hotel. We have power (15/20 amp receptacle, no telling what the breaker is rated at), water, and a dump available. Since the parts won't be here for about a week, the mechanics at the Kenworth shop jury-rigged Kat's coach so that she could drive it down here (that's Kats rig on the right). They will come get her when the parts come in. So we are together again, at least for Christmas (and maybe New Years too, at this rate).
Day 11: Thursday, Dec 24; Still here, and now the weather is turning bad again. It's sunny, but in the mid 60's and very windy. They are forecasting rain for Saturday through Wednesday next week, with temps in the high 60's and low 70's. Have been trying to find a laundromat but with no results. We keep getting different directions but can never find one.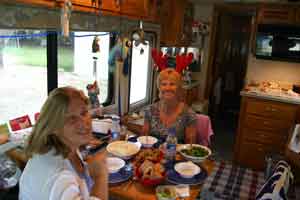 Christmas Dinner
Day 12: Friday, Dec 25, Christmas day; No change, we are opening the gifts that Zoe, one of my wife's daughters, had sent us and preparing for a shared Christmas dinner. The weather is cloudy and it seems to be trying to rain.
Day 13 - 14: Saturday & Sunday, Dec. 26 - 27; Yesterday, we stumbled onto what might be called the US shopping zone. There is a Sam's Club, Home Depot, Office Depot, Sanborns, and a bunch of US fast food joints. If you're heading south on Carrerta a Aeropeurto de Tampico, bear to the right when approaching the airport instead of swinging left to go by the airport. The road is Avenida Hidalgo. You can't miss all the stores. We had lunch at Carl's Jr and did some shopping at Sanborns. They have a limited selection of English paperbacks, and Kat found a Spanish/English dictionary. Today (Sunday) I got hit with a cold. I've been fighting it for a couple of days and it won! So it's back to bed for me.
Day 15 - 16: Monday & Tuesday, Dec 28 - 29; Monday I spent most of the day in bed with a cold and fever. Today (Tues) the rain finally stopped and we went shopping for an electronic language translator and a GPS for Kat. We had no luck with either. We did get Robin's Mexican cell phone minutes recharged. It seems that, if you drop below 150 pesos, you can't call the US. Of course an hour after we added more peso's, we got a message from Movistar stating that they would give us 2 for 1. So we added more pesos. Kat also got a call from the Kenworth shop; the parts are in, and they will send a mechanic and the parts down to the Bonitto Inn to put everything back together on Wednesday! How many mechanics do you know that make house calls? That means we should be able to continue our journey on Thursday and, hopefully, get to the Emerald Coast Thursday night (New Years Eve)
Day 17 - 18; Wednesday & Thursday, Dec 30 - 31; Well, I knew it was too good to be true. The mechanics needed the coach back at their shop, so they had Kat drive it back on Wednesday afternoon. Of course, it wasn't that easy, the coach wouldn't start, so they had to go back to the shop to get a jumper battery. That worked, so Kat drove it to the shop (they can't drive it because their insurance doesn't cover them on the road. They also brought her back to the Bonitto Inn to pick up her car. So while the mechanics worked, she shopped for batteries. She found some 5D batteries at Napa and had the mechanics install them. This took up all of the afternoon and in to the early evening (they work from 9 AM to 6:30 PM). All that was left was to arrange for the insurance to pay them. On Thursday, the Insurance agent in the US tried to pay with a credit card. The Mexican Bank wouldn't accept a credit card unless they could see it! So then, the insurance agent asked the Kenworth company if they would accept a cashiers check, sent by messenger. This was acceptable so he had a check cut and put it in UPS for overnight delivery. Of course since it was New Years Eve, it wouldn't get to Kenworth until Monday, and maybe not until Tuesday. After all this, the Kenworth people changed their mind and said they wouldn't release the coach unless Kat put the whole thing on her credit card and then they would reimburse her when they received the cashiers check. She said that she didn't have the room on her card and that they had agreed to releasing the coach immediately; so she was just going to sit there, in her coach until the check arrived or they released it. They finally relented and released the coach.
By this time it was too late to hit the road, and since the weather forcast for the following day was for high winds, we planned our departure for Saturday, Jan 2.
Day 19; Friday, Jan 1; We sat out the wind storm at the Bonitto Inn, filling our water tanks and packing up. We are ready for departure!