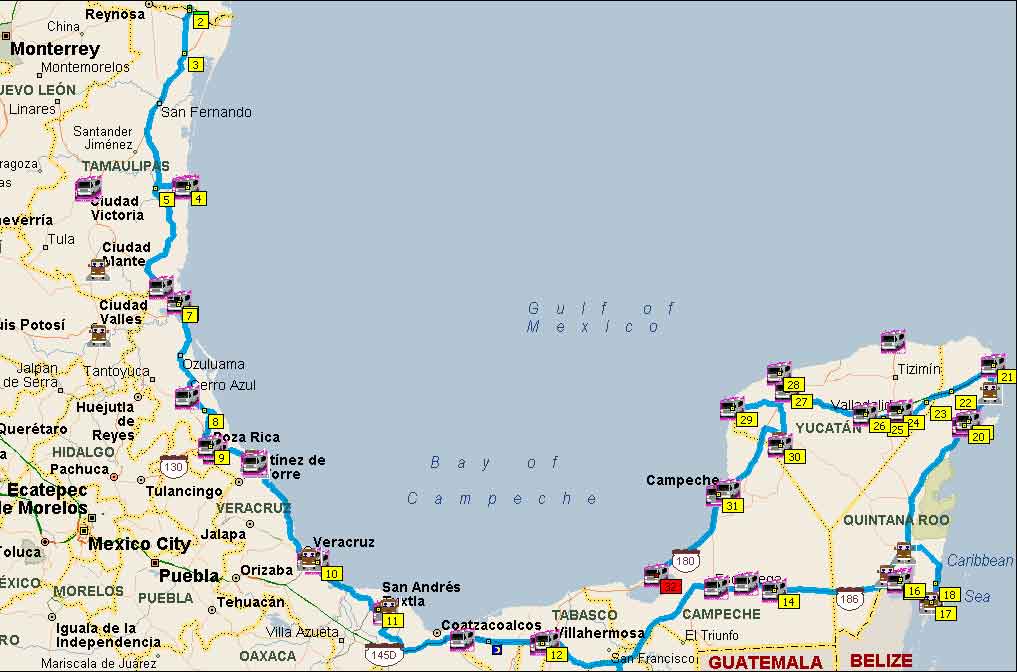 EAST COAST OF MEXICO 2009
OVERVIEW.
Well, this is the start of a new adventure for us as a couple. We both have been in Mexico before but not together and not on the east coast. We will be traveling with another coach belonging to our friend Kat Church. She is new to Mexico travel so we asked her to join us for at least the first part of this trip. Due to medical stuff, we have to be back by the end of February, 2010; so Kat may separate from us and travel back to California (her home) via the west coast of Mexico.
Our tentative plans (all plans in Mexico are tentative) are a slow trip down the coast until we reach the Mayan Coast, hang out at a nice Caribbean beach for awhile and head back home. I will try to keep this travel journal up to date but internet can be iffy in Mexico. The photo albums may take a little longer to get posted due to a lot of things but mainly because this is Mexico and there's always mañana. That said, lets get to it.
The map above is an overview of our itinerary. There are two RV symbols being used; the head-on depiction of an RV is used for RV stops that cannot handle big rigs. The one that shows the front and side of an RV is for stops that can handle big rigs. The big rig symbol with a yellow numbered box alongside it is a stop, the yellow numbered box without an associated RV symbol is just a way point to keep us on our desired route. The tent symbol of various colors are potential stops that I have discovered but don't have any info on. If I'm in the area of any of these, I'll check them out. Note that I have been using the term 'Stop' not RV park, that's because in Mexico, a lot of the places are not RV parks as we know them in the US and Canada. They are other business's that have add some sites for RV's. These can be hotels, inns, restaurants, or the parking lot of a place of interest. Some have some form of hook-ups, other don't. In my interactive form of this map, a double click on an icon will bring up all of this info and more.
I have csv and xls files for importing into S&T that show ALL the possible RV/Camping stops along the west coast (that I'm aware of) if anyone is interested. This is a work in progress and is constantly being updated.
To follow along, just click on one of the buttons on the left. To contact us with questions or comments, just use the "Contact US" button at the top of the screen.
Note: We have already encountered our first change. Due to some mechanical problems with both coaches, we are now looking at Saturday, 12 Dec for departure from Texas and crossing the border.