To Fraser RV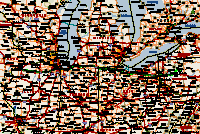 New RV Hunt!!
Georgetown Album
(Terry Frasier RV photos)

While Workamping at Forest Ridge Cabins and Campground, I received a letter from Alion Corp. stating that they had merged with my old company, John J. McMullen. In the process of this merger I ended up with a bunch of Alion stock and a large sum of money, which was put into the money market until they were directed otherwise. WOW!!! Talk about manna from heaven!
I decided to use it as a down on a new RV. Mine had been nickel - diming me to death. I discovered that I had dry-rot around one corner of the front slide-out and that something was wrong with the overdrive (probably a vacuum leak). The handling, lack of storage space, and cramped bath was also bugging me. So this is a great time to go shopping!
After checking with my Credit Union, who would finance for 7 years at 5.98 % and B of A (they hold the paper on my existing coach) who would go 15 years at 6.49%, I decided to get something used (2003-2005), over 35 ft, and at least 2 slides. Of course it would have to have a full basement and a large bath. I drew up a shopping list of stuff I needed and stuff I'd like on the coach and went shopping on-line.
I entered my requirements into 3 RV sales web sites and sat back and waited. After about a month, I got the e-mail I was waiting for; A 2004, 37 ft, Georgetown XL with only 5004 miles on it. It didn't have everything I wanted but what was missing I could have added, the snag was it was in IOWA! That's about 11 hours drive away in my toad, and 2 days in my coach. After talking with my employers, who agreed to give me whatever time off I needed to make this deal come to fruit, I decided to go for it.
So, after about a week of e-mail negotiations, I took 3 days off (I swapped some work time with the other workamper, who wanted to go visit relatives in Ohio) and headed for Eldridge, Iowa in my toad.
I was right, it was almost exactly 11 hours on the road. I checked in to the Quality Suites about a block from Terry Fraser RV at around 8 PM (there is an hour time difference) for the night. The next day I went over the coach and took it for a test drive. The salesman (Mike Heit) and I put together a punch-list of things I wanted fixed, added, and/or changed, and came to an agreement on the prices. We ran all the numbers by their financial manager and he bought off on the package. However, he thought that, given my high credit score, he could get a better interest rate and proceeded to find a 6.25% rate at 15 years. So we signed some paperwork and I headed back to PA while they started work on my punch-list.
Punch-List
Install 275 watts of Solar Panels and 21 amp controller
Replace 4 pin with 6 pin receptacle on back for toad lights
Install gas oven
Install automatic satellite dish (KVH 3S)
Install Freedom 2500 Inverter
Install Cobra 25 CB radio and NGP Antenna
Repair driver side visor.
Repair rollers on windshield curtain
Install window awnings (3)
Swap my 420 amp Trojan batteries with the 120 amp batteries now in the new coach. (this will be done when I take my old coach over and pick up the new one).
Install remote tire pressure monitoring system (Pressure Pro)
Since they don't have some of this stuff in stock, this will probably take about 2 weeks.
While there I had lunch at a place called "Del's Tavern". The lunch special was deep fried tacos with home-made salsa. Very good. The tavern was kind of cool too (see photo album). I should say something about Eldridge too. It is a very small farming town in the middle of corn fields (and other crops). For some reason it is also the home of some hi-tech machine shops and light industry. There are two large RV dealers on the edge of town. Terry Fraser is the 2nd largest Georgetown dealer in the US. Go figure! He does a lot of internet selling and has sold to (and delivered to) as far away as Florida, Texas, and California. The Quality Inn and Suites that I stayed at is a 3 story, 75 room hotel that was full both nights I was there. I think a lot of it was overflow from Davenport, where the John Deere Invitational golf tourney was going on.
Well, that's about it for now. More when I go pick up my new home!!
THREE WEEKS LATER:
I received a phone call letting me know that everything was done except the CB antenna and taking the L16H batteries out of my old coach and putting them in the new one. The CB antenna they received was the wrong one so they were sending a driver to Davenport to pick up the correct one. It should be installed by the time I get there.
So I made arrangements to take off on Saturday and return on Thursday. This wasn't an easy thing to do because the other camp host had gotten himself in a bind and was still in Ohio. No one seems to know when he will be back. The owners here (Bob & Carrie) said not to worry about it, that they had run the park without workampers before and for me to do whatever I needed to do to get my new coach. So I'm off to Iowa.
Well, I picked up my new coach, but it was a struggle! Have you ever heard of Murphy's Law? The one that says that "anything that can go wrong, will"! Murphy was very evident the last few days! It went something like this.
Saturday noon; Left Forest Ridge campground, heading west on I-80; planned on stopping somewhere in Western Ohio because I don't want to hit that I-80/294 mess around Chicago in the middle of the evening rush. The place I planned for an overnight stop was, luckily, visible from the freeway before the off ramp. It was a dump! (Murphy 1) so I kept going. I finally stopped at a rest area/service plaza and picked up some pamplets on RV parks along the Ohio Turnpike. I also found out that some of the service plaza's have overnight RV sites for a nominal fee. Unfourtunately, it requires unhooking the toad and backing in, so I opted to try for a park with pull-thru's. The most promising one on the map was Eagle Lake Camping Resort in Gibsonburg, so thats where I headed.
Eagle Lake turned out to be a flooded quarry about 5 blocks from the center of Gibsonburg that had been landscaped and an RV park/campground built on the shore of the resulting lake. It was a very pretty place but it was also booked solid (Murphy 2). They were having weekend swap-meet. They suggested a KOA about 45 minutes away but, when I called, they were also full (Murphy 3) . The next suggestion was the local county park that had camping/RV sites but no hook-ups. Since it was getting dark, and the park was about 3 miles away, I decided that that would have to do.
The county park was very nice with grassy sites and lots of trees. In fact the trees needed a trim as I hit a lot of branches getting into the camping area (Murphy 4). I'll not be stopping here on my trip back in my new coach! The park also was undergoing a renovation so not all the sites were available (it looked like they were putting in sewer/water/power). The ones that were, were back in's (Murphy 5). So I ended up having to unhook anyway.
The next morning (Sunday) I hit the highway early, hoping to get through the construction mess at the 80/294 area while everyone was still in church. WRONG! Don't these people know it's Sunday morning and they shouldn't be out here on the highway (Murphy 6)? Anyway, I crept through the mess and was on my way.
Around 3 PM (local time) I arrived at Terry Frazer's RV and parked. Originally I parked on the side of the building where my new coach was parked when I visited earlier because I knew it had a 30 amp outlet. It turned out that was the side that got the afternoon sun (it was in the 90's) so I moved to the shady side of the building. It only had 15 amp outlets but I figured I could run the genset and A/C until I got the coach cooled down. After running my genset and A/C for about 10 minutes, the genset shut down! My fuel tank was below 1/4 tank, the lowest that the genset can get suction (Murphy 7). So I was stuck with opening the windows and toughing it out, at least I'm on the shady side.
Monday: The day started out on a high note and then went south fast. The mechanics opened the shop around 7 AM and the office doesn't open until 9 so I introduced myself to Rich (the mechanic assigned to my coach) and we went over what was left to do. The correct antenna hadn't been picked up yet so we concentrated on installing my batteries in the new coach. Rich was pleasently suprised when he saw the batteries because they were told that mine were 16HX12WX24L and weighed 124 pounds, so they weren't sure where they were going to put them! Those are the figures for 8D's. I've got no idea how they got the idea I had two 8D's instead of my two L16H's (which have the same footprint as a standard battery, only 16 inches high). Rich had already installed the inverter in the forwardmost compartment on the right side and run battery cables to the area behind the front grill (which is where I had suggested we put the L16H batteries) and the AC cables to the AC distribution panel inside the coach. So it looked like all we needed to do was weld some supports and battery trays in, hook everything up, and test it. That and installing the CB antenna should be do-able by lunch. I figured I'd be on my way back a day early if I could get all my stuff transfered in one day.
Then Murphy stepped in again. After Rich welded in the supports for the batteries, the FireStik antenna showed up. Since Rich didn't have the battery trays yet, he switched over to installing the antenna. Due to the construction of the inside front of the coach,with a 27" TV hanging in the middle, he was trying to route the CB antenna down through the right windshield piller and across under the dash. Well, of course this didn't work (Murphy 8) so he had to get another mechanic to help him take the TV down so he could route the cable across the top, inside the overhead cabinets, to the left piller and then down. So what was going to be a couple of hours ended up taking all day.
That night it rained. That's when I realized that there weren't any covers on the roof vents (Murphy 9)! Another thing to add to the work list! When Rich got back to the batteries, he discovered that the battery trays wouldn't fit on his supports (Murphy 10). So he had to cut them out and start over again. After getting the batteries installed and hooked up to the inverter/charger, they hooked up the output of the charger to the A/C distribution panel and fired it up. Of course Murphy wasn't going to let that go! After about 5 hours of trying to get it to work they finally fried the inverter/charger and blew a 300 amp DC fuse (Murphy 11)! It was going to take a full day to get a new one and another day to get the fuses, so they finished up on the other stuff, like the vent covers, the plug for my toad, etc. During this time my toad suffered a flat (Murphy 12), so they sent it out for repair. They also figured out that they needed to install a seperate distribution panel for the inverter to get it to work since I was only powering part of the coach's AC load from the inverter. So they installed a 4 circuit distribution box alongside of the existing one. Worked out pretty good, and the new inverter/charger worked like a champ.
During this time, I'd pretty much completed the transfer of stuff from the old coach to the new one. I moved the old coach over to their "trade-in" line and parked it for the last time. I kind of hated to see it go, I covered a lot of miles in that thing.
I finally got out of there a day late, and headed for PA. This new coach handles great! No longer do I have to hang onto the wheel with both hands! I can actually sit back, relax a little, and see the sights. During my overnight stop, it rained again and I discovered that the main slide roof leaks (Murphy again, #13)!
After I got back to PA I discovered that the IR remote circuit in the main TV doesn't work, and the Convection/Microwave quit about a week later (Murphy's still at it, 14 & 15). With the help of the other workamper (he was back) we pulled the Microwave down and I took it into a repair guy, after about 2 weeks he gave up and gave it back to me, still not working (Murphy 16). Come to find out, he was a repair technician at the local hospital and had never seen a Convection/Microwave combination before. I'll get it into a real repair service in Phoenix.
I recaulked the slide roof seams but it still leaks. I think the inside seam is the culpret but that will have to wait until I get to Phoenix. Until then I just make sure I have a tilt on the coach when it's raining, easy to do with hydraulic leverers. The TV problem will also have to wait until Phoenix. Since I mostly watch satellite, and that remote works, it's not a big deal.
With all the storage space, I went on a power tool buying splurge and now have a circular saw, 2 sanders, router & table, jig saw, power nailer, and some fold-up sawhorses. I also bought all the wood (including the hardwood fronts, direct from the sawmill) I'll need to build some drawers in the washer/dryer cavity and have it stored in the forward pass-through (almost all the storage compartments are pass-throughs of some type). I've already re-lined the cavity with finish plywood and installed the cabinet half of the drawer slides. All that is left is to build the drawers, but that will also have to wait for Phoenix.
When I took possession of the new coach, the RV dealer gave me a bunch of paperwork, including the original PA title (it was originally sold in PA). The WA DOL told me what I needed to do to get the coach registered and licensed in WA and one of the things was to get one of their forms notarized. The problem was that, in PA, a regular notary won't touch anything involving a vehicle. This has to be done by a notary at a car lot or licensing office. All the ones I tried told me the title was no good because it had gone through too many hands and all the blanks on the back were full. I finally sent it back to the dealer in Iowa and he got a new title (from Iowa) and sent it to me. With this in hand I was finally able to get a notary stamp on the WA form I needed. Then I sent the whole mess (along with a check for the sales tax and fees) to WA DOL. I'm hitting the road without legal plates or a valid registration but I think I'll be OK if I get stopped because I've got copies of everything.
I've had other problems with the coach but those will come to light in their proper order as I chronicle my trip to Key West.